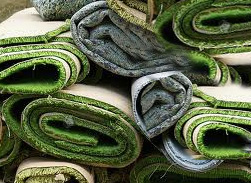 If your carpet is past its best or you prefer the easy clean, less dust and clean look of floorboards then you may be looking to get rid of the old carpet. Besides painting, changing floor coverings is one of the things that really has a big impact on the look and feel of a living space. So how do you get from carpeted house or room through to new carpet or floorboards? – here is a quick checklist to run through:
Carpet removal – you need a plan
Because carpet laying, floorboard sanding and repairs can take time you will need to plan out the stages involved to avoid being caught out. Here are the basic stages you will need to think about:
1) Move the furniture / pack shelves
2) Rip up can cut up the carpet and dispose of it
3) Remove the underlay and dispose of it
4) Prepare the floor – make any repairs / remove staples and nails
5) Make sure its clean
6) Get the floor done by the carpet layer / sander
7) Replace furniture / unpack shelves
How to remove carpet – essentials
There is a lot more to it than you may have initially thought! This is why moving house is an important opportunity to for making sure floor coverings and painting is done at the new house as it can be a nightmare to do once you are all moved in.
Keep in mind moving the furniture may take 2 people and involve heavy lifting – the same is true with the carpet removal itself. Carpet removal is also potentially smelly, dusty and dangerous (sharp tacks) so make sure there are no kids around when its being done.
Who has time to do carpet removal?
If you have moved house before you know its probably the worst time you can have a big job added to your plate – and that is what carpet removal and replacement is, a big job. So what do you do?
Carpet removal – the easy way
If you use a professional carpet removal service like the one 1300 Rubbish has you can pretty much get steps 1 to 5 off your plate and done in time to fit your carpet layers / sanders timetable without destroying yourself. They will:
1) Move the big pieces of furniture for you if required
2) Rip up, cut up AND dispose of the carpet
3) Rip up the underlay and dispose of it
4) Depending on your instructions they can either rip up or leave alone the tack strips (be sure and ask your carpet installer if they want them left as they can sometimes be reused).
5) They even sweep up afterwards!
Old Carpet removal and disposal – get a quote
If this sounds like a better scenario than the DIY route then just give 1300 Rubbish a call and get a quick estimate on doing your carpet removal. You may just find its one of the best things you can do to help make life a little easier in a very busy time in your life.
---
Get a fast obligation-free quote, call our friendly operators – 1300 78 22 47
Or get a quote via email using the form below:
---