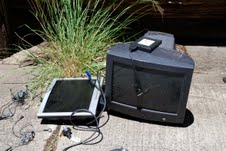 We've all thought about it; we have an old analogue TV that we need to get rid of quickly, we don't have anywhere to put it and there's no way anybody will pay money for it. You think to yourself maybe, just maybe, if you put it out on the kerb, somebody might take it – after all, everyone else does it. You assume that it'll get taken eventually, and nobody will know it was you because you're in a block of units. It can't hurt…right?
Wrong. Illegally dumping your rubbish will cost you eventually…
The illegal dumping of your rubbish can cost state governments up to $10 million a year removing and properly disposing of dumped rubbish and illegal landfills. That's $10 million that could be spent improving hospitals, schools and roads. It has also been proved to have a negative impact on house prices in areas where illegal dumping is common. Not to mention the "on the spot" fine of anywhere between $750 and $1500 for individuals and up to $5000 for corporations.
What makes illegally dumping your rubbish so bad for your neighbourhood?
It's not just financially detrimental either; illegally dumping your rubbish can degrade the land around it and destroy plant and animal habitats. Practically, dumping your rubbish out on your kerb makes little sense – it will not only make your neighbourhood aesthetically displeasing, but will attract rodents and criminals into your area. Illegal dumping of rubbish often attracts criminal activity in the form of graffiti and vandalism, not to mention the physical hazards.
With the digital switch-over looming, we're sure you've walked past a few old televisions out on the street in the past few years; the culprit might have had good intentions and hoped that somebody would come by and collect it. Analogue televisions contain hazardous waste such as lead and mercury, and when these get kicked in (which they usually do when left on the street) these toxic materials, not to mention the glass, are left exposed for all to stumble upon. Let's just say that it doesn't exactly make your neighbourhood child-friendly.
What type of rubbish in your neighbourhood gets dumped and why?
The most common items to dump were found to be general household rubbish, large domestic items (mattresses, fridges etc.), garden waste and electronic goods, such as old televisions and computers; all of the above are items that are difficult for the average householder to dispose of, so maybe it's not all our fault?
A report for the NSW government highlights some of the most common reasons for individuals to illegally dump their rubbish.
No easy disposal options – tips are too far away, too expensive or are open at inconvenient times
No storage options for large items – need to make space and get rid of their rubbish straight away.
It's easy to get away with – people know that there are laws against it but often don't believe that they are enforced. Those in blocks of units also have the anonymity factor.
Illegal dumping has a knock on effect – it's easy to add rubbish to an existing pile, so if one person does it, everyone else will join in too.
Council Collections aren't regular enough and won't collect certain items.
Old, battered furniture – no hope of selling.
Convenient, cost-effective hands on rubbish removal for your home
1300 Rubbish believe that we have the answer to illegal dumping. We offer hands on rubbish removal and collect all types of large and awkward pieces of furniture that you might find difficult to dispose of elsewhere. You don't have to do a thing; we'll load up your rubbish onto our trucks and take it away with us there and then. In most states we operate Monday through to Saturday, and can organise a collection time to suit you; we always aim to be with you within 48 hours if not sooner, so if you don't have the space to store it, we'll be there as soon as possible. 1300 Rubbish also make a concerted effort to recycle all items wherever possible.
Call 1300 Rubbish today on 1300 78 22 47 for an obligation free quote and to see how we can help you, and your neighbourhood, get rid of your rubbish responsibly.