As returning to work becomes a reality for many states across Australia, a number of new considerations become relevant as we prepare to leave our home offices. However, it may not be quite as simple as opening the doors and putting out a welcome mat. This transition period presents unique challenges that could have lasting effects for employees and businesses.
Each state also has a set of COVID Safe business regulations that may interfere with your typical ways of working. Certain protocols will need to be put into place in order to comply with these regulations and keep your employees safe.
Before you start your first day back, it might be a good idea to do an office clean out, to ensure that resources and equipment are all up to date for everyone who does want to come back. 1300Rubbish provides fast and efficient office rubbish removal services in Melbourne that can help take some of the stress off your hands.
Making sure your office space is clean and professional looking will benefit employee wellbeing as they transition from remote working to being back in the physical workplace. It will also help to protect your employees' health and give them peace of mind about the level of health and hygiene in the workplace.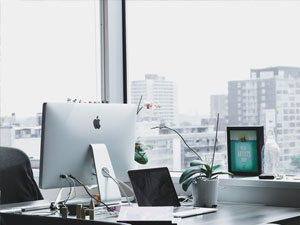 Returning to Work Covid Regulations for NSW
From October 11, many businesses in NSW are allowed to open, welcoming back staff members and customers who are fully vaccinated. Those who are not fully vaccinated will not be allowed to return to work or visit non-essential businesses until December 1.
Business owners are required to take reasonable steps to ensure that staff members and visitors are fully vaccinated, which may include asking for vaccination evidence. Vaccination evidence can include an online immunisation history statement, a COVID-19 digital certificate from the Australian Immunisation Register or a valid medical exemption. Every business that is a separate legal entity is also required to display the vaccination rules from NSW Health in a noticeable position, such as at the entrance to the premises.
Those who live outside Greater Sydney (including Central Coast, Blue Mountains, Shellharbour and Wollongong LGA's) and work at a business that is reopening on October 11 have slightly different vaccination requirements. They may attend work onsite with only one dose of a COVID-19 vaccination up until November 1, by which they must have had their second dose.
Masks will still be required in all indoor settings, including offices, and all businesses will be required to display a QR code that staff and customers can use to check in to the facility.
There will be a density limit of 1 person per 4 square metres in indoor areas, which may mean that not all your staff will be able to come back at once.
Depending on the size of your business, your staff's levels of enthusiasm about coming back and the effectiveness of remote work, you may employ a number of strategies for the return to the workforce. Some business leaders, such as Sparro, will not be welcoming staff back to the office until NSW reaches the 80% vaccination mark. They have also decided to stop all hot desking for the time being, in favour of providing staff with allocated spaces in order to make sure they are appropriately socially distanced.
Returning to the Office in Sydney
It is important for businesses who are welcoming back office workers to create a COVID-19 Safety Plan and register as a COVID Safe Business. The COVID-19 Safety Plan will help to reduce the possibility of transmission and increase the safety and security of all your employees. You will need to consider what kind of messaging you will provide for your workers in terms of office hygiene protocols, when to get tested, physical distancing and cleaning, as well as their leave entitlements if they are sick or required to self-isolate. You will need to provide your office workers with up to date information about vaccination requirements.
You may need to consider whether you are equipped to have everyone come back to the office at once, or whether you should consider implementing parallel scheduling, shift work or flexible work arrangements for those who still wish to continue remote work. You will also need to provide personal hygiene equipment such as face masks, sanitiser and disinfectant wipes, and ensure that cleaning regimes are strictly followed.
Since you haven't been in the office for a few months now, you may need to consider clearing a few things out and updating the equipment. New facilities may also provide an incentive for workers to come back to the office, especially those who have gotten comfortable with remote work. If your usually pristine office is looking like a neglected mess, rubbish removal might be a good service to consider to help make the transition easier.
Returning to Work Regulations for Victoria
If you are returning to work in Victoria, the vaccination rules are slightly different. Select businesses and workers will have vaccination restrictions from October 15, while office workers may not be able to return until early November. If you are one of the workers listed here, you must either have received your first dose of a COVID vaccine or have a booking to receive your first dose by October 22. From October 22 onwards, you can only continue attending work if you have received your first dose of the vaccine. The only exception to this is if you have a medical exemption based on professional medical advice.
By November 26, all returning workers must have received both doses of the COVID vaccine.
Returning to the Office Post Covid in Melbourne
Those who work in offices in Melbourne are expected to be able to go back to the office from November 5, which is the predicted date that Victoria will reach 80% double vaccinations. This date may come sooner if the rate of vaccinations increases in the meantime.
When staff do return to the office, businesses in Melbourne will have to put into place many of the same COVID Safe procedures as Sydney – including ensuring capacity limits, social distancing, contact tracing and checking vaccination requirements. Masks will have to be worn in the office, which is expected to encourage many workers to continue working remotely for a little while longer. If employers wish to draw their workers back into the office, an office clean out may provide some encouragement.
Offices in Melbourne will also have to ensure strict contact tracing procedures are in place, in case a staff member tests positive. Any staff member who tests positive will need to isolate for 14 days, and other staff members will need to be notified and tested as well.
Regulations for Returning to the Office in Queensland
Returning to the Office Guidelines for Queensland
Office workers in Queensland are currently able to work in office buildings, with limited restrictions on their movements. COVID safe hygiene practices, like regular hand washing and the sanitisation of surfaces, are still very much essential, but no capacity limits have been placed on office spaces.
Physical distancing must still be maintained as much as possible, and regular cleaning regimes for high touch and high traffic areas must be in place. Masks are not mandatory but encouraged when physical distancing is not possible.
Post Covid-19 Considerations For The Office
The office space as we knew it before the pandemic will likely no longer exist, even though we can now start to go back. More than half of the workforce has been working from home for months now, so the technology and resources that we have available to assist remote work have changed the way both employers and employees view the workplace.
Many people are now questioning whether or not there is a need for a physical workplace, while others are questioning whether company culture and corporate culture can be maintained in an online environment. Office spaces may need to be redesigned in order to maintain physical distancing procedures and comply with capacity limits, without sacrificing opportunities for collaboration.
Companies may need to consider whether their talent pool is best served by advertising to those who live too remotely to come to an office, or only employing people within the area. In-office video conferencing will also need to be redeveloped, because the combination of in person and online communication means that some participants naturally get sidelined.
1300Rubbish can help you renovate your office space, by organising an office strip-out. If you need to move to a smaller space to save on rent, or a bigger space to help put more distance between your staff, we can organise most of the move for you. We can arrange furniture removal, electronic waste recycling, data destruction and rubbish removal, and we can also help arrange other services to help you get set up in your new office.
Returning to the office will likely have both positive and negative consequences for workers who have become accustomed to working remotely. Employers and Human Resources departments will be expected to provide clear messaging and further details to all employees about what is allowed and acceptable, and they will also be expected to show empathy towards staff members who may not feel comfortable coming in. This pandemic has shone a light on the importance of good mental health practices for employees, so it will be important to keep the focus on this. This transition will be unusual, but it's an opportunity to reimagine the workplace for the future and develop new working models.