WE'RE STILL OPEN!
Our Essential Service remains open for business.
Rubbish Removal CBD
Rubbish Removal CBD
Sydney's CBD is the perfect mixture of sleek modernity and traditional charm with businesses, office buildings and luxury apartment towers all seamlessly existing side-by-side. As children we were told not to judge a book by its cover but there's no denying that, when it comes to your home or business, appearances are important.
Sydney's CBD is the perfect mixture of sleek modernity and traditional charm with businesses, office buildings and luxury apartment towers all seamlessly existing side-by-side. As children we were told not to judge a book by its cover but there's no denying that, when it comes to your home or business, appearances are important.
Whether you are spring cleaning, moving house or even undergoing an office remodel, the first step to making sure the process is as smooth as possible is to make a call to our friendly team of expert rubbish removalists. Our rubbish removal service can make any space look neat and tidy, by helping you get rid of any waste you may have in your home, office or on a building site. The entire rubbish removal process is quick, easy and as environmentally friendly as possible. When it comes to the rubbish removal itself, you won't have to worry about a thing, our professional team has years of experience with rubbish removal in the CBD and will be respectful, personable and conduct themselves in a way is minimally disruptive to your staff and neighbours.
We offer a range of different rubbish removal services in Sydney's CBD and her neighbouring suburbs including Paddington and Ultimo. Our services include:
Although the Sydney CBD is traditionally a commercial area, the few residential towers that dot the city's most desirable locations tend to be incredibly luxurious. From the towers at Barangaroo to the Toaster building in Circular Quay, the CBD has a whole host of high end residents who are in the market for household rubbish removal services. The rubbish removal specialists from 1300 Rubbish who have years of experience with rubbish removal in the Sydney CBD as well as the neighbouring Eastern Suburbs and the nearby Inner West are the perfect team to help you with your waste removal needs. Rubbish removal doesn't have to be an overwhelming task, just call our friendly team at 1300 Rubbish and we'll be ready to offer you our best and most efficient service to help you get the job done.
Our team of waste removal specialists can help you to get rid of kitchen waste from renovations, old furniture, household items, we can even dispose of old mattresses, there's no limit to what teams are capable of managing! We even have experience managing the delicate matter of deceased estate clean ups. We will be ready to help your family in a way that is sensitive as well as effective. 1300 Rubbish also perform green waste removal services and will be able to dispose of your garden waste in an environmentally friendly way. When we're done your house will be the picture of cleanliness – all you have to do is call us for a quote today.
If you're a business owner in the hustling bustling Sydney CBD then you'll know how important commercial rubbish removal is to keeping your business running smoothly. Whether you are the owner of one of the many cafes feeding the city's steady stream of workers, the manager of one of the city's many hotels or even the owner of a CBD gym, calling in professional rubbish removalists is the best way to clean out your space in a fast and efficient manner. We will have your professional space cleaned and back in running order in next to no time. We can help you with any rubbish that you may have on your premises including the removal of general office rubbish, outdated furniture and shop fittings and we can even dispose of air conditioning units. At 1300 Rubbish, we are experienced in many types of rubbish removal services including commercial waste removal. Our experience combined with our familiarity with the Sydney CBD has made us the go-to team for CBD rubbish removal.
If your Redfern office or cafe is undergoing renovations or is in need of a complete strip out, get in touch with 1300Rubbish. With years of experience and excellent service, we can efficiently remove old furniture and technological waste quickly and with ease. Our team will strive to be efficient and minimally disruptive so you can quickly get back to doing what you do best.
The Sydney CBD is a fast-paced place and businesses are often coming and going. If you're moving in to or out of a new office space then you might need to consult, 1300 Rubbish, your friendly experts in office rubbish removal services. Whether you're looking at an end of lease clear out or just an annual clean up, 1300 Rubbish has experience in Sydney CBD rubbish removal and will be able to quickly get the job done. From old office furniture, general accumulated junk or even e-waste, our experienced team will remove your rubbish in the most environmentally friendly way.
The fabric of the city is constantly changing with new business moving in every day and new buildings sprouting up and filling holes in the concrete jungle. Due to the ever-changing nature of the busy CBD there is often a considerable amount of construction waste in need of professional clean ups. If your property is being renovated, constructed or demolished the strip outs will often leave you with skip bin after skip bin of scrap metal and other construction waste. If you're currently in the middle of construction and you need the help of professional and cheap rubbish removal service, then give the team at 1300 Rubbish a call today and your construction site will be rubbish free in no time!
Removing Rubbish in Sydney CBD With 1300 Rubbish
The CBD is often packed with busy, well-heeled corporate types rushing from meeting to meeting. The city air is thick with networking from 9-5 and, after the sun goes down, you'll see people letting loose at some of Sydney's finest bar and restaurants, clinking martini glasses. As the trains and the busses dash in and out and the iconic Sydney ferries make their presence felt in our world famous harbour, one thing is clear: at her the Sydney CBD is truly a thing of beauty.
To keep the Sydney CBD beautiful you'll need the help of a committed and experienced rubbish removal service. Give the experienced CBD rubbish removal team from 1300 Rubbish a call today and they'll be able to offer their skilled waste management services and handle your rubbish removal needs which will enable you to keep your space as pristine as possible.
Give us a call and we will be able to give you a quote today!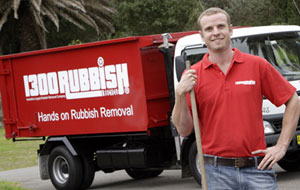 From Houses to Apartments – nothing is too much trouble. We remove your unwanted junk, rubbish, furniture & even fittings and carpet from where you tell us to.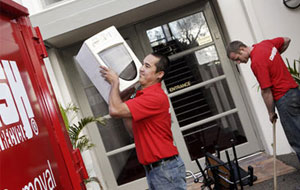 Be it Offices, Warehouses or Retail – we have you covered. We'll remove anything, from obsolete stock, IT or furniture and cubicles or even whole strip outs.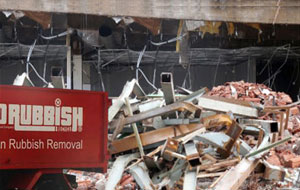 Reliable and Fast, we clean out any building or demolition site of rubbish and waste or even strip out fixtures and carpet – for a safer and more productive work site.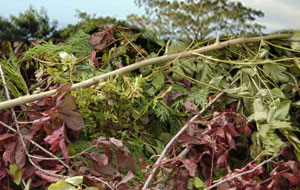 Green waste is anything from shrub and bush clippings, leaves, garden waste and lawn cuttings to cut-up tree trunks. We'll pick it up where it lies and dispose of it for you.