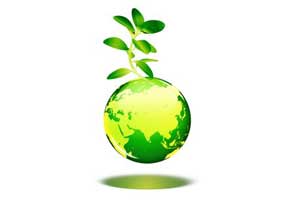 On June 5th it's World Environment Day. A day to be especially kind to the planet and do as much as you can to show your appreciation for the world we call home. If everyone took the time to do just a few simple things on this one day every year, we could make a major difference.
Below we've listed 10 simple things you can do to make the most of World Environment Day.
Plant a Tree
One of the most amazing things about trees is that when planted city-wide, they can reduce the overall temperature of a city and its suburbs by up to 10º. This reduces the need for air conditioning and also scrubs the air exhaust fumes and improves oxygen quality.
Planting a tree in your backyard is a great way to help on World Environment Day, and planting a veggie garden or a single vegetable plant is even better. Another added benefit of planting a tree is that they can increase a home's value by up to 15%.
Ride your bike or walk
This is a great one if you live nearby your workplace or school. Take a walk or ride your bike instead of driving. It'll save you fuel and reduce your environmental impact, plus it's a great form of exercise.
You can make this a daily habit too if it turns out that you like to go for a walk and get some fresh air, rather than driving and dealing with traffic.
Let your voice be heard
If you've always felt that something environment-related in your town or city needed to change, take the time to sit down and draft up an email or letter to your local politician. Share your thoughts on the issue and perhaps even start a vote or public opinion survey on the issue.
One of the best times to do something like this is on World Environment Day as it gives your local MP a good look and will also make it more likely that they take your petition or letter seriously.
Clean up responsibly
Chances are there's plenty of things that need to be tidied up around your home, or somewhere in your neighbourhood, so why not use World Environment Day to get some friends or speak to a few families in your street to do something about it.
Speaking with an environmentally friendly removal business, like 1300Rubbish on World Environment Day to take away rubbish or clutter from your home or someplace in the neighbourhood is a great idea and it means you'll know wherever the rubbish is taken, it'll be done in an environment focused way.
Use a refillable water bottle
Another simple thing you can do that can become a new habit or new standard for yourself is to use reusable water bottles. A great quality BPA-free bottle will mean no more buying lots of water bottles and you can just bring it everywhere with you. These bottles are usually stronger too, so you can use them for a long time.
Get produce from a local farmer's market
This one is a great tip too. Choosing local businesses over grocery stores means your food comes from just down the road, and it's usually fresher and organic. In grocery stores, food typically travels over 2,000km to get to you and that creates a major environmental issue. If you can get great healthy and organic foods from just a few kilometres away, then why not? When you buy locally you're supporting the local economy and environment.
Shop better for clothes
This is another tip that can be used every day, not just on World Environment Day, and that is to look in different places for new clothes. Rather than purchasing brand-new and on-trend clothing, look for something that isn't using new resources to be made, like buying from thrift shops or companies like thredUP. Cutting back on resources for clothing means guilt free shopping too. So you can truly feel good about your purchase.
Unsubscribe to catalogues
Each year more than 100 million trees are cleared to make junk mail. Those pesky and almost useless catalogues you find in the mailbox that you don't even remember subscribing to. The next time you get one, or if you remember which catalogues your routinely get, head to their website and take your name off their mailing list. If you don't need a hardcopy version, then why waste resources?
Spend time outside
Finally, a great way to celebrate World Environment Day is to actually go outside and sit out in it. Take some time and immerse yourself in the environment nearby your home, listen to some music and do some thinking. It's a good way to reduce stress as well as to really appreciate the planet we live in. Sometimes we forget how precious and beautiful it really is outside.
Fast Quote: