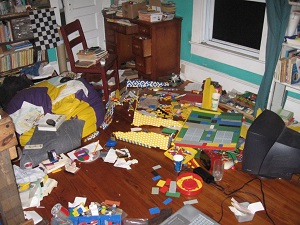 The idea of decluttering your home may seem completely overwhelming. If you've spent years accumulating belongings, you may not even know where to begin, and it's easy to feel defeated before you've even started. This list provides useful for tips that will turn decluttering your home into a manageable task.
Sort everything into piles
A useful technique is sorting everything into four piles: Keep, sell, donate and chuck. If you still want or need it, it goes into the keep pile. Anything that you don't need but that could bring in a worthwhile amount of money can go in the sell pile. Items that you don't want and are in excellent condition can be donated to charity, and anything that is past its best is better off in the bin.
Make a list
Writing a list will ensure that you haven't missed anything, as well as giving a great sense of satisfaction as you tick each one off. List each room in your house—don't forget the attic or any external buildings such as garages or sheds—and break them down into manageable categories. For example, your bedroom might include categories like wardrobe, drawers, floor, and under the bed. 
Ten-minute tidy
Instead of trying to dedicate a whole weekend to blasting through everything, allocate ten minutes every day to sorting through your belongings. Before you know it, things will be much tidier with minimal effort!
Declutter room by room
It's much easier to work one room at a time. Not only does this make the task more manageable, but it also means that you don't have to keep going back and forth between rooms. Once you've completed a room, you can just forget about it.
Don't keep what you don't use
When you're decluttering, ask yourself: "Have I used this in the last year?" If the answer is no, get rid of it. That party dress that doesn't fit? Gone. That broken mobile phone? Gone. Don't fill up your house with things that you don't need.
Don't get sentimental
There are obviously some things that you don't technically need that you'll want to hold on to, like your wedding dress or baby's first shoes, but be careful not to let sentimentality take over. Once you start to put your emotions to one side, you'll find it easier to part with things that you don't need.
Ask for help
An extra pair of hands is always useful when it comes to manual labour, but an outside perspective can be eye-opening when you're decluttering. If you have to justify keeping items to someone else, you may come to realise that they weren't as important as you first thought.
Consider storage solutions
If you're desperately trying to declutter but finding that you have a lot of things that you really can't part with, it might be worth looking into storage facilities. Items that you need to keep hold of but that you don't use regularly, or significant things such as pieces of furniture, can be kept out of the way, giving you more space in your home. Be mindful that you don't just pile a load of useless things into storage and forget that they exist; ensure that you regularly review your external storage.
Hire a rubbish removal company
After you've decluttered your home, you'll likely have quite a bit of rubbish that you need to get rid of. If you've been through, or if your house was particularly cluttered, to begin with, it would be wise to get the experts involved. 1300RUBBISH will take everything away in just a few minutes, leaving you free to enjoy your newly decluttered home.
Don't undo your hard work
Try to keep hold of the decluttering mentality once you're finished. When you buy new things, consider whether you actually need them. Try the one-in, one-out rule, whereby if you buy a new item, you get rid of something that you already own. Don't fall into bad habits, and make sure to regularly carry out mini decluttering sessions to avoid a more significant problem later on.
If you're keen to get rid of the clutter in your home, head over to the 1300RUBBISH website or call us on 1800 551 351 for a fast and easy estimate.
---
---