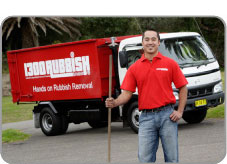 It's that time of year again, when temperatures begin to drop, we begin to layer up and put away the barbie until next summer.  But, never fear! Autumn is not the time to hibernate. At 1300Rubbish, we like to see this time of year as a time to catch up on those jobs that we may have put off over the summer months (Who wants to have a clear out  when there's a beach close by eh?) So, if you're starting to suffer from the winter blues, follow 1300Rubbish's guide to autumn and summer will be here before you know it.
Garden strip out – clear away your garden junk.
Summer temperatures in Australia can take their toll on our poor gardens, especially as it's normally too hot for us to even have a go at looking after them. At 1300Rubbish, we recommend taking advantage of the cooler weather to give your garden the TLC it deserves.
Dehydrated plants can be revived, but sometimes it's just too late, so be ruthless with plants that don't look like they'll make a comeback any time this decade. You might also want to think seriously about the condition of your barbie or your patio furniture – do you think it will survive another winter? Whatever your garden waste, 1300Rubbish will be on hand to come and remove it when you're done.
Closet renovation – new season, new wardrobe
At 1300Rubbish, we understand that it's hard putting away your thongs and bikinis in return for a slightly warmer jacket and pair of shoes, but it's not all bad.  Be thankful for the times you had with those items, and say goodbye. Clearing out your wardrobe can be a liberating experience, and there's no better time to do this than at the beginning of the new season.  Be brutal and make some space for your new season wardrobe. Then call 1300Rubbish, and we'll take away all of your old bags of rubbish for you.
Clear Home, Clear Mind – Spring Cleaning doesn't have to wait until Spring
So with your garden and your wardrobe in order, the rest of the house needs to follow. Without the gleaming sunshine tempting you away from your chores, autumn is the perfect time to have a thorough clear out of every little nook and cranny around the house. Studies show that a clean house can lead to tidy mind, so save yourself money on therapy and sort your cupboards out today.  Depending on the size of your home, it might take you the next four months to clear out, in which case it will be summer already and your winter blues will have gone right out the window.
1300Rubbish – On call throughout all four seasons for your rubbish removal needs.
Whatever and whenever your rubbish removal needs, our hands on rubbish removal experts are waiting to help. Whether it's garden waste, renovation rubbish or household junk – 1300Rubbish loves taking the garbage out of your life. All it takes is one simple phone call to one of our friendly, customer service team and we'll organise the rest. We'll even sweep up afterwards.
So don't wait until the sun and all its distractions return to start your Spring clean, call us today on 1300 78 22 47 (Freetoll) and have your rubbish collected now.