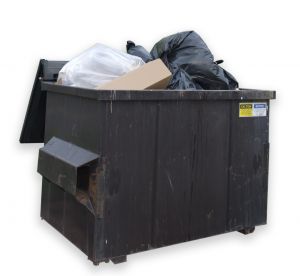 At 1300Rubbish we pride ourselves on delivering excellent customer service as standard, and to do so we only hire the very best rubbish removal experts. Our dedicated team across Australia are proud to be rubbish men, and take their work and customer satisfaction very seriously. Here's what a typical day in the life of a rubbish removal expert involves….
First Stop – Early morning rubbish collections.
Our drivers start the day with their early morning rubbish slots. We understand that your time is valuable, and that you have far more important things to be getting on with than hanging around waiting for someone to come and collect your junk. Work commitments, as well as lifestyles, can often mean that you're not around during standard working hours, which is why we have our 7am rubbish collection slot.
Whilst we endeavour to book all jobs within a two hour time frame, our 7am slot is guaranteed. So, if you need your rubbish collected before you leave the house in the morning, our early morning rubbish removal is the option for you.
Office Furniture Removal…and a helping hand!
At 1300Rubbish, we work with some of Australia's largest companies (as well as many of our small businesses), so we're tried and tested when it comes to office furniture removals. You just have to check out our testimonials to see how well we can do. It's normally at this point of the day where two of our drivers might meet up to give each other a hand. Often with large furniture and in locations where there might be slightly tricky access, several flights of stairs or lots of tight corners for example, customers can request a second, third or fourth rubbish removal expert to pitch in. You just let us know if you think the job might require more than one person, and we'll organise the rest.
This doesn't just apply to offices either; if you think your home rubbish removal might be slightly tricky, don't worry about letting us know. This way we make sure we can do all the hard work, so you don't have to lift a finger.
Kerbside Rubbish Collection
In the interest of being the most flexible and customer friendly rubbish removal team in the business, we go out of our way to make sure we can collect your rubbish in the most hassle free way possible. So, if you start work before 7am or if one of our early morning slots are busy then, as long as we can get access to your rubbish, we'll still remove it – regardless of whether you're around or not!
Just let us know where your rubbish is located when you book your job in with us, and we'll handle the rest. All our sales team require is you credit card details on booking, and our drivers will call to confirm the final cost before they begin any work – saving you the bother of having to wait around or rearranging your plans.
Book you rubbish collection with us today!
A rubbish removal expert leads a physically exhausting day, and works from 7am right through to 5pm with the aim of making your life as junk free as possible. So call one of our dedicated sales team today on 1300 78 22 46 (toll free) for an obligation free quote. We aim to offer you the highest level of customer satisfaction, and look forward to hearing from you TODAY. We have plenty more tricks up our sleve too, so watch this space….