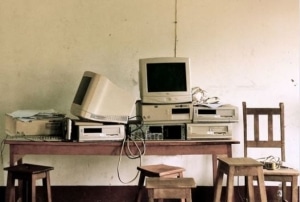 In an era when most people would opt for better performing and space-saving devices and equipment, it is not surprising to know how this practice has contributed to the growing problem of ewaste. Perhaps one of the popular items that seems to end up as junk at a faster rate than the others is the computer monitor especially the ones which are huge and occupy too much space.
Depending on where you live, throwing away your old and unwanted computer monitor into the trash may be illegal. This is because computer monitors are believed to contain certain materials that are dangerous not only to the environment but also to humans. These toxic materials include chromium, cadmium and mercury which are all hazardous to the environment. Monitors that are older and made up of huge cathode ray tube contain lead at a minimum of three to eight pounds which is alarming since lead is a known carcinogen and neurotoxin.
If you're thinking of discarding your old computer monitor, consider these helpful ways to do it safely and effectively.
Check if your old monitor is still working
This way, you can find out if your monitor can still be used and therefore be qualified for recycling. You can ask your local schools and charity institutions on whether they accept monitors as donations. You can also ask the manufacturing company if they have the so-called "buy back" or "take back" programs. The aim of these programs is to encourage consumers who are planning to buy a new computer monitor to bring their old monitor back to the manufacturer for the purpose of recycling.
Take advantage of an ewaste collection drive in your area
Some bigger cities conduct ewaste collection drives that are run by organizations or municipal offices. You can ask around and get information on the time and date that such collection drives will take place. Doing this option can also be economical since little to no fee can be expected when you drop off your unwanted ewaste. It is also the best option for those who have managed to keep a considerable number of computers and monitors which are just laying around and are waiting to be discarded.
Bring your ewaste to a retailer
Believe it or not, there are several huge retailers that have the so-called retailer programs which allow them to accept unwanted ewaste such as computers, monitors, fax machines, desktop printers, laptops and all-in-ones. One example is Office Depot which sells cheap boxes that can be filled with old gadgets to make it easier for consumers to drop them off for recycling purposes. Other retailers that also encourage recycling include Best Buy, Circuit City and Staples.
Our team at 1800ewaste provides an easier, faster and safer way for you to throw away your old and unwanted computer monitor. Just give us a call at 1800 392 783 and our friendly customer service team will handle all your queries and even provide you with a free and non-obligation quote. Alternatively, you can also use our online form and we will get back to you as promptly as we can.
---
---