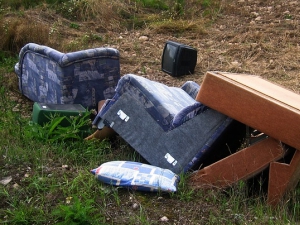 Bulky waste would usually refer to any household waste that is too large to fit in a rubbish bin. These include the freezer, furniture, washing machine and more.
Apart from being too large to fit in a bin, bulky waste is also the type of waste that you cannot put out as part of the normal bin collection. One example would be the television.
Furniture Collection
If you believe that your unwanted furniture is still reusable, you can call for a furniture re-use service for its collection. Reusable furniture is usually sold at an affordable price which can be great for families that belong to a low income bracket.
To ensure that your furniture will be collected, it has to meet certain criteria.
1. It should be in good condition.
2. It should not be flat packed or dismantled.
3. It should not be damaged or dirty.
4. It should not be left outside for collection.
Washing Machine Collection
Planning to get an upgrade on your washer and dryer? Whatever the condition your appliances are in, don't settle for an easy way out by simply discarding the old ones. Either your old washer and dryer is re-used in someone else's home or it ends up being recycled as scrap metal. Choosing either way would at least prevent your unwanted appliances from ending up in a landfill. If it's still in good condition, you can call a recycling office in your area to collect your appliances. You can also drop it off in the recycling office if a collection service is not available. Make sure that you are giving your old appliances for recycling to an accredited appliance recycling center.
Fridge and Freezer Collection
Disposing your old fridge and freezer can pose environmental problems because of the harmful elements that they contain. Older models are believed to have hydrochlorofluorocarbons or ozone-depleting chlorofluorocarbons and other dangerous chemicals. However, it also has valuable metals, plastic and glass which are all recyclable. The best way to recycle is by taking your old fridge and freezer to an accredited recycling center instead of dismantling everything on your own.
Just like any other home appliances, your old fridge and freezer can also be donated and used again so long as they are still in good working condition. You can search for friends and family members who may find your old fridge and freezer useful or you can search for local charities in your area.
TV and Ewaste Collection
Disposing old TV and other ewaste products is a lot more difficult than you may think because of certain health risks that they may cause to people and to the environment. This is because they are believed to contain harmful chemicals or materials such as lead, mercury, cadmium and BFRs (brominated flame retardants).
If you're planning to dispose your old TV or any other bulky items in your household, our office at 1300Rubbish can definitely help since we provide the most reliable and affordable rubbish collection services in various locations. Simply dial 1300 78 22 47 and talk to our friendly customer service team to get a free and non-obligation quote.
---
---