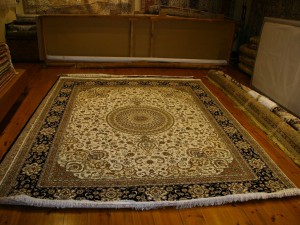 Carpets tend to look and smell bad quickly and may be difficult to dispose over time. Still, many companies would choose to have carpeted floors and may not have seen beforehand the difficulties involved when it comes to removing and disposing old carpets.
Newly-placed carpets never fail to impress even the most discerning tastes. Apart from adding aesthetic appeal to an office, carpets serve various uses and purposes.
First, they help offices in the upper floor to curb any movement sounds that may disturb those who are working at the lower floors.
Second, carpets can help in controlling the sounds that come from anyone who walks with hard sole shoes.
Third, carpets act as a cushion which then create a soft walking surface.
Lastly, carpets are cost effective and when properly cared for, are less expensive to replace compared to tiles.
Throwing Away an Old Carpet
Just like everything else that is used on a daily basis, carpets will also show signs of tear. If the whole office floor is fully carpeted, this would need careful planning as far as removing and disposing carpets is concerned.
Throwing away your old and used carpet in the office can actually turn out as a rewarding move for others. You can do a lot of things with an old carpet.
How to Use an Old Carpet
If you need to dispose your old carpet and believe that it is still in good condition, you can actually do a lot of things which can be very helpful to other people.
You can donate your old carpet to a reuse organization that's near your place.
You can use your carpet pieces as mats for kennels which can help keep the animals warm during winter.
You can cut your carpet to a certain size that would make it fit your car windscreen in order to save you some time defrosting in the morning during winter.
If you have a wool rich carpet, you can use it to keep weeds at bay on your garden paths.
You can use your old carpet for lining ponds.
You can use it for added insulation in your home which can also help you in achieving lower heating bills.
Carpet Rubbish Removal in Sydney
At 1300Rubbish, we can help you with the removal and disposal of your old carpet in the office no matter the size and weight. We can even do the tearing out of large carpet pieces for you before we haul your old carpet away. We will make sure that every inch of your old carpet is taken cared of without obstructing your daily work at the office. We can also take away your other types of rubbish – Rubbish Removal Sydney.
For best results, our team at 1300Rubbish will do these things for you:
We will lift your old carpet along the edges and then cut it into strips that are more manageable.
We shall do the same to the carpet pad.
We will come prepared with the proper equipment such as hammers and screwdrivers in order to remove the so-called carpet tack strips.
We can also use a screwdriver or a spackle knife in scraping the carpet glue and whatever type of debris that is left as an end result.
---
---