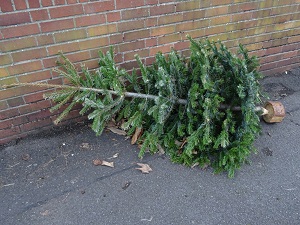 In the Christmas season, one of the most exciting things is heading out to pick your Christmas Tree and decorating your home. Many people still prefer to buy a real pine tree instead of a fake one. Real trees are no doubt prettier, and they give whole different feel your home during the festive period. Besides from being a little messy, they also pose one big problem – disposal. Once Christmas is over, your real tree will already have started to die, and it will be time to start thinking about how you are going to dispose of it.
What you do with your tree once Christmas is over can significantly impact the environment. Although real trees are in many ways more environmentally friendly than false ones, disposing of them incorrectly can actually cause more damage to the environment in the long run, especially since you have to throw them out every single year, unlike fake trees which can be stored and used for many years.
It only takes a bit of consideration and thought to reduce your carbon footprint. Many people take the easy route once Christmas is over, put their tree in the car and take it to the dumpster. Every year, thousands of tons of real trees are recorded as being thrown out this way and most end up in a landfill. The money spent on landfill taxes for real Christmas trees are extravagant, and mostly wasted when it is much needed in other places and could be utilised to improve recycling facilities and help the environment.
The best thing about real trees is that they are recyclable, and it doesn't take much effort to recycle them instead of just throwing them into any old container. You can get even more use of them after Christmas, for example, and even convert the tree into wood chips. If that doesn't interest you, they can be decomposed in compost. Don't just throw them away, be environmentally smart and reduce your carbon footprint.
Though many people prefer to invest in a real tree, for the majority, a fake tree that can be used year in year out remains the more attractive option. While you can effectively recycle an artificial tree for years and years, the day will come that the tree starts to look a little sad and it is time to buy a new one. Disposing of a fake Christmas tree is more complicated than disposing of a real tree, as they do not naturally decompose and cannot be reused in another manner. Their plastic means they have a much higher carbon footprint, and they typically produce twice the amount of greenhouse gas emissions when disposed of.
1300RUBBISH offer an excellent Christmas Tree removal service. Our team can take care of the pick-up, recycling and disposal once the festive season is over. This means you don't have to worry about anything but getting back to work! Don't have your dead Christmas tree sitting out on the front lawn for weeks! Contact 1300RUBBISH today on 1800 551 351.
---
---