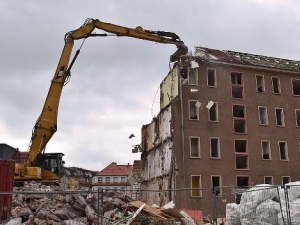 Cleaning up after a demolition work may seem like a huge task. Often, a demolition cleanup is seen as a dirty business when viewed in a literal sense. However, cleaning up can be very essential when it comes to handling the problems of debris, grime and dust that have accumulated after bringing down a building. Not only can they get into rooms but they can also contain allergens and other byproducts which should be removed from the property.
A demolition cleanup can involve a multitude of things that have to be removed on a large scale. These can include the removal of drywall, insulation and filth. In order to gain a successful removal, the demolition cleanup crew should be able to use destructive tools, wheelbarrows and manpower for breaking down huge pieces of material.
Demolition Services
There are various types of demolition services that you should be aware of in order to get the proper type of cleanup that you would need after a demolition project.
1. Excavator and Bobcat Service
2. Fire, Flood and Earthquake Clean Up
3. Flooring Removal
4. Barn, Shed, Deck and Fence Removal
5. Spa, Hot Tub and Pool Demolition
6. Plaster, Stucco and Sheetrock Removal
7. Roof Removal
8. Patio, Walkway and Driveway Removal
9. Dirt, Digging and Excavation Removal
10. Cutting, Concrete Breaking and Removal
11. Retail, Commercial and Office Demolition
12. Kitchen and Bath Demolition
13. Complete/Partial House Demolition
14. Complete/Partial Building Demolition
15. Site Preparation and Land Clearing
What You Should Do Prior To A Demolition Project
Whatever type of demolition service you need, each structure that is being considered for the demolition project must be surveyed on the condition of its walls, floors and framing. This is for the purpose of assessing the possibility of an unseen and unplanned collapse of any part of the structure. A written engineering survey result should be produced at the end.
In addition to the survey, there are a number of things that has to be accomplished as well. First, you need to brace or shore the floors and walls of structures that have been damaged and pose a threat to employees when they enter. Make sure that all stairways are properly illuminated. Inspect and maintain all ladders, passageways and stairs.
Determine and take note of the types of hazardous chemicals, explosives, gases and flammable items that have been used in any tanks, pipes or other equipment found inside the property. Conduct a survey for asbestos and other dangerous items.
Post warning signs at every level of structures to warn about the danger of falling materials. In multi-story structures, protect the entrances by placing sidewalk sheds or canopies that stand at a minimum of 8 feet. Make sure that the canopy is at least 2 feet wider than the entrance of the structure and that it can hold a load as heavy as 150 pounds.
For a more professional and reliable demolition cleanup, you can call our office at 1300Rubbish and get a free and non-obligation quote. Just dial 1300 78 22 47 and talk to our friendly customer service team.
---
---