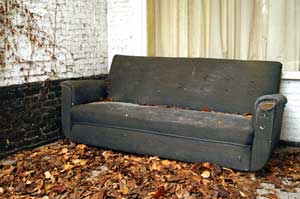 No longer have any use for your unwanted furniture?
A lot of people try to give there unwanted furniture to charities which is an extreme help to people experiencing disadvantages but unfortunately charities have become very fussy with what unwanted furniture they will accept, the furniture has to be in pristine condition with not a mark on it.
It can also take up to 2-3 weeks before they can get anyone out to take a look at your unwanted furniture which means if your moving house this can delay your move or even mean you have to take them to the new place with you and then they still may not take them.
Call out day is here, if you're unwanted furniture wasn't accepted by your charity and you need them gone before move out day or if you did run out of time and had to take them to your new home you don't have to worry, there is another option……
1300RUBBISH can help, this is what we do! Hands on rubbish and unwanted furniture removal.
Why let your unused furniture / unwanted furniture pile up and take up much need space around your home when you can get someone to come in and remove it for you. Our drivers collect your hefty waste, any house hold junk, white goods and unwanted furniture from your home, without you having to lift a finger!
Let 1300RUBBISH get rid of your unwanted furniture
1300Rubbish is a cheap, affordable and a reliable service and once our drivers have loaded your rubbish onto the truck, they'll do a thorough sweep-up, ensuring your place is left as clean as possible afterwards.
---
To book call one of our friendly operators on 1300 78 22 47
Or book online fast using the form below:
---