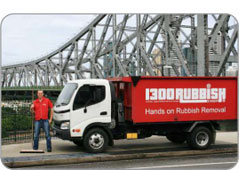 DIY is one of those things that always seem like a good idea at the time, but when you're covered in saw dust and you've just managed to cut off the electricity for whole block of units. Skip bins often have the same result; their unsightly appearance and tendency to ruin lawns/ pavements / neighbourly relations, can sometimes far outweigh their convenience and cost. At 1300Rubbish, we are your convenient, cost-effective and, we'd like to believe, rather attractive alternative to skip bins and DIY (even if we do say so ourselves…) When it comes to your strip out and Waste Removal needs, 1300Rubbish have it covered, and you can do it all without a skip bin in sight.
From the bathroom to the kitchen – residential strip outs with 1300Rubbish
At 1300Rubbish, we have a special team of qualified demolition and excavation specialists with over 20 years of experience in their field. Our team pride themselves in always achieving ultimate customer satisfaction, and will work their hardest to complete on schedule and in budget. 1300Rubbish are a favourite for residential strip outs mainly because we're not a huge multinational company. You'll always speak to a friendly, English-speaking team member in our centralised Sydney office – there are only 5 of them and your guaranteed excellent, tailor-made customer service every time. Do you have a slightly awkward job that needs thoroughly discussing, or a very tight time frame? Explain your concerns to our customer service team and they will do what they can to personalise your experience. No two strip-out jobs are the same, and it's that understanding that makes us the best in our business.
Renovations and Refurbishments – commercial strip outs with 1300Rubbish
We have been fortunate to gain the trust and the business from some of Australia's top companies and, thanks to our focus on customer service and personalised approach to business, we've kept those relationships strong. When your office requires a strip out, 1300Rubbish should be on your speed-dial. You might be having an office or shop refit and need the old fixtures removed, 1300Rubbish can project manage the whole process, from removing your unwanted furniture, to transferring fixtures to other stores. It's not out of the ordinary for our team to work through the night to get a strip out completed before opening hours (if you've ever dreamed of being locked in shopping centre overnight, our boys have been there!) That is what makes 1300Rubbish and our team of loyal, professional staff different form other rubbish removal companies – we will literally go above and beyond the call of duty to ensure that we leave you, the customer, happy.
Say goodbye to the skip – building waste removal with 1300Rubbish
After strip outs and renovations there's always plenty of rubbish left over, but never fear, we'll be taking care of that too. 1300Rubbish are proud to be rubbish men, so we will load up your building waste to our trucks and take it all away with us immediately – totally eliminating the need for a skip bin. Whether you're renovating your home or refurbishing your office, we'll take pleasure in clearing out the rubbish you accrue. You won't need to lift a finger, and your rubbish will be gone before it gets a chance to annoy you, or your neighbours. 1300Rubbish – Whatever your Rubbish Removal needs, we've got it covered.
So what are you waiting for? Offices, shops, homes and units – we've got more than 20 years of experience in removing your rubbish, stripping out your bathrooms and clearing out your offices. Our excellent customer service and fair price ensures that we stay at the top of our game, and have kept us going strong during a period of worry and instability for many. Call us today on 1300 78 22 47 (freetoll) and chat to one of our fully trained customer service team, and let us make your life easier.