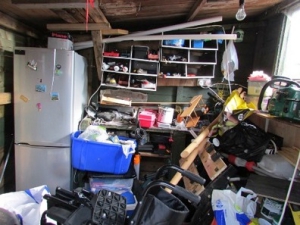 These days, most homeowners would use their garage for purposes other than a place where they can park their car. It turns out that garages are also used as storage area where people would keep just about anything such as tools, broken appliances, old furniture and more. In many cases, this practice of making the garage as a storage space becomes a serious problem as it becomes more crowded with unwanted rubbish. As a result, people would have no other choice but to park their car on the street since there isn't enough room in the garage for their vehicle.
Just like any other rooms, garages also need some cleaning work particularly if these are the places that you see first when you arrive in your house. If you feel like opening your garage door can lead you to see views that are not only unpleasant but are also frustrating, then it's time to schedule for a cleaning to get rid of rubbish in the garage.
Garage Rubbish Collection
Let our team at 1300Rubbish help you with your garage rubbish cleanup and collection needs by providing a professional and reliable garage rubbish cleaning services. We offer an absolutely hassle-free and budget-friendly garage clearance service to help you reclaim your valuable space and regain its original purpose. With more than 20 years of experience in the garage cleaning services industry, we aim to provide an efficient and dependable garage rubbish clearance service at an incredible price that's hard to beat.
Sorting Your Rubbish
Before we start cleaning, it is best to know how you can sort out your rubbish. There are only two labels that you can use when sorting: things for keeping and things for throwing away. Keep in mind that your garage should be a reflection of your current life. This means that your garage should only keep those items that you regularly use. When throwing away garbage, you can include those that you haven't used within the past 12 months.
For things that you can keep, you can organize them and decide what you can do with each of them. Any item that you think is no longer usable can be treated as rubbish and therefore should be discarded. Bulky items such as old furniture can be difficult to dispose. You can call our team at 1800Rubbish to handle the sofa and bulky items disposal in your home. Our team will do all the carrying and lifting of bulky and heavy items and transport them to an accredited rubbish disposal site.
Post-Garage Cleaning
Once your rubbish is collected, you can aim to keep your garage clean and the stored items at a minimum level. So long as there is enough space for your vehicles then there is nothing that you can worry about. Having a clean garage is one of the effective ways to keep rodents at bay which are usually attracted to rubbish and use it as their breeding ground. Watch out for signs that your garage is becoming cluttered again and start sorting items as early as possible.
---
---