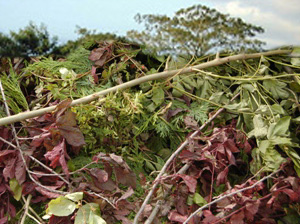 While spring often means a beautiful display of flowers and lush gardens it can also herald in the growth of massive amounts of green vegetation that swamps your green bin and create unsightly rotting piles around the garden. Short of shelling out some serious money for a small motorised wood chipper and using it for garden mulch (which may be an option for those on acreage) there is not a lot that can be done with it short of trying to get it to the tip.
Where is the green waste rubbish tip?
Many areas have a waste management facility that will accept green waste and if you have the transport (truck / trailer) and a bit of time up your sleeve to get there and back this might be an option. For the rest of us there are some other options – some councils have green waste pickup days – but they are few and far between. The other option is to use a green waste disposal service like 1300rubbish.
Green waste disposal made easy.
The nice thing about using a service like 1300rubbish is that you can spend the time allocated to pick up the green waste how you choose. So if you have one big pile or a lot of smaller ones it doesn't matter – it will all get picked up where it lies and taken away, they will even sweep up afterwards. Hopefully this info has helped give you some ideas on your options – you can have an idea of cost for hands on green waste disposal in only a few minutes by calling 1300rubbish (1300 78 22 47) for an obligation-free estimate over the phone or use the online form below:
---
Get a fast obligation-free quote, call our friendly operators – 1300 78 22 47
Or get a quote via email using the form below:
---