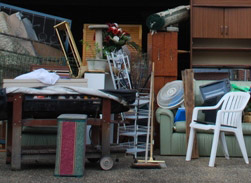 Many people these days are collecting large amounts of "stuff", both new and used that while initially useful can end up creating clutter and confusion inside a home. New items these days seem to come with a massive amount of packaging that can fill the little rubbish bins you use for your food and other rubbish each week. Used items often come from ebay or even a council hard rubbish collection and can quickly become a nuisance around the house if not used or are bulky.
How do I arrange a Hard Rubbish Collection?
If your council is one of the many that have regular kurbside collections perhaps twice a year it can seem like a long time between. Also if you are like many people these days you might actually end up picking up more junk that you put out as the temptation of seeing a useful item sitting on the kerb is just too much. Other councils can arrange to get a truck to you as long as you have it all in a neat pile on the kerb the day before the pickup is due. These both have their pro's and cons, including other residents making a mess of your hard work as the forage through your pile for buried treasure.
The Hard Rubbish Collection made easy
The beauty of using a hard rubbish collection business like 1300Rubbish is the convenience and timeliness and also the reduction in the effort involved. Having the rubbish collection at the exact time you want it means you can focus on the other things going on and not have to drop everything to meet a set date. There is also a large labour saving component as you can leave the bulky heavy rubbish where it is and simply get the men from 1300Rubbish to cart it to the truck. This means you can have multiple piles or locations for your rubbish and you save on having to cart it all peice by peice to the kurb.
How to arrange your Hard Rubbish Collection
The quickest and easiest way is to call 1300 782 247 and have a chat to a friendly operator about your situation. They can quickly give you and idea of cost and timing and if it suits you you can arrange for a pickup at your convenience. The truck will call you on approach and they will even sweep up afterwards – leaving your hard rubbish collection a distant memory and your house clean and uncluttered. Call 1300 782 247 for a fast, easy quote or use the online form.
---
Get a fast obligation-free quote, call our friendly operators – 1300 78 22 47
Or get a quote via email using the form below:
---