Do you have hard rubbish you need gone?
Not sure what to do with it?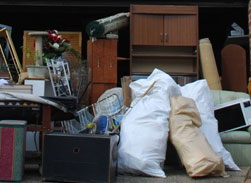 Did you know that leaving your unwanted items on the street is illegal and if you do decide to leave your hard waste on the street and people add to it you are then responsible for getting rid of all of it? Illegal rubbish dumping spoils an areas appearance and has a high cost on the council to remove and dispose of it to the rightful place.
It is estimated that more than 11,000 tonnes of waste are illegally dumped each year in Western Sydney alone. The illegal dumping of waste is an ongoing and highly visible problem and has been prioritised by the government, you can be fined anything from $1500 for illegal dumping.
Hard Rubbish Removal and more
The three major items found are house hold items, domestic waste and green waste, If you don't have the time to take your rubbish to the tips or transfer stations, if you don't have a big enough car or if the items are too big and heavy for you to lift, dumping them is not the only solution there are other solutions to getting rid of your rubbish.
Hard Rubbish removal – help is at hand
1300Rubbish can help you, this is what we do. Our professional team of driver can collect your hard waste. We come in load your rubbish in our trucks and take it to the tips/transfer stations we do everything you don't have to lift a finger!
Remember dumping is illegal and can turn out very costly so why not save yourself the hassle and get 1300Rubbish to come in and do all the work.
Here is a list of some hard rubbish we can help with;
• Furniture – tables, chairs, sofas/lounges, wardrobes, bookshelves
• Bags of rubbish
• Carpet removal ( full service) and disposal, rugs, matts
• Building, renovation or demolition material – bricks, rubble, dirt, piping, roofing panels, doors, plasterboard, tiles, timber, fencing
• Garden and Green waste removal
• Appliances – vacuum cleaners and kitchen appliances
• fridges, washing machines, dryers, dishwashers and ovens/ Large appliance removal
Why not give us a call for a free no obligation quote.
Hard Rubbish Removal Sydney Melbourne Adelaide Brisbane Perth Gold Coast
---
Get a fast obligation-free quote, call our friendly operators – 1300 78 22 47
Or get a quote via email using the form below:
---