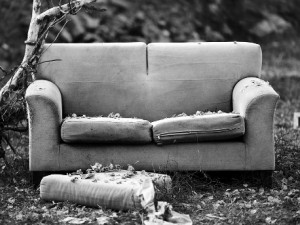 People who are looking for ways to de-clutter their homes can successfully do so with the help of a hard trash collection service providing company. Booking this kind of service is perhaps the most convenient way to dispose rubbish items that are too huge to be collected in a regular household rubbish removal. It is also the best option for disposing items that have certain disposal requirements such as whitegoods and mattresses. There are also several occasions when a hard trash collection would include green waste (bundled branches).
Hard trash items can include clothing, books, videos, computers, DVD players, televisions, bar fridges, washing machines, dryers, fridges, mattresses, couches and furniture. Other items that can be considered as hard trash are household appliances, assorted whitegoods and assorted household waste.
Hard Trash for Collection
For a hassle-free collection of your hard trash items, you can call our team at 1300Rubbish and schedule for a time and day when you want your items to be collected. If your hard trash varies into several types, it may be best to separate them into four piles.
If you're throwing away scrap metal, make sure that it doesn't measure longer than 1.5 meters.
Mattresses and bed frame should be a separate file. You can dispose up to 6 mattresses of varying sizes. Bed frames can also be in any size.
The third pile can be made up of garden waste such as vines, branches, cuttings, logs, tree stump and timber. The latter should be up to a maximum number of 12 pieces and must be neatly stacked. If you have more than one tree stump, each should have a maximum allowed weight of 30 kilograms and a maximum diameter of 15 centimeters.
The fourth pile is made of general hard trash items. If you're disposing whitegoods, make sure that the doors have been detached or removed. You can also include lawnmowers, tools, small car parts and car tyres (maximum of 4 pieces) in this pile. When it comes to windows and mirrors, make sure that you have wrapped them securely in cardboard and have labeled them with the word "glass." You can also dispose up to three rolls of underlay or carpet. If there's a need to dispose baby seats and capsules, make sure that you have removed their straps. Remove the lids and contents of paint tins. Other items such as toys, pots, electrical appliances, crockery can also be included in this pile.
Hard Trash Items That Are Not Allowed For Collection
Throwing away your hard trash items can be quicker, easier and safer so long as you know beforehand which items are not acceptable for collection. These can include barbed wire, broken or unwrapped glass, green waste or domestic waste in plastic bags, building or renovation materials (plasterboard, bricks, rubble, soil), car bodies, asbestos products or sheeting, coil springs and chemical or empty chemical containers.
Call 1800Rubbish for Your Hard Trash Collection
You can call our friendly customer service team at 1300Rubbish by dialing 1300 78 22 47 and get a free and non-obligation quote. You can also visit our website and fill out our online form so we can contact you soon.
---
---