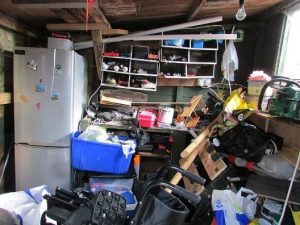 Hoarding is recognized as a psychological disorder. People who practice hoarding tend to turn their homes into a dangerous or unhealthy place to live in both for the occupant and for the neighbors.
Companies that provide a professional hoarder cleanup help believe that in order for them to successfully conduct a service and get rid of the clutter, they must use an approach that is not only honest but is also compassionate and realistic.
Most professional hoarder cleanup services offer a number of ways to deal with a hoarding situation. It is important to note that when the process would involve officials, it is therefore necessary to comply with the requirements that have been outlined with the aim of making the house livable again.
 A hoarder cleanup can help with the odor removal in a cluttered home.
When possessions are continuously acquired without any intention of using or discarding any of them, these items would eventually become worthless, dangerous and unsanitary. There were numerous instances when a house shows signs of neglect by giving out a foul odor that from a number of things. These include spoilt food, human and animal feces, sick and even dead animals and fungus. If this is the case, people who provide professional cleanup services would decide to work hand in hand with various groups and individuals. These include working with realtors, social workers, health department personnel, estate lawyers, law enforcement officers and code enforcement officials.
A hoarder cleanup can help in cleaning animal feces and urine as well as provide disinfection.
The task of cleaning up the room that has been found to have animal urine odor can be overwhelming and stressful. Cat urine, for example, has crystals which make the cleaning more difficult and sometimes impossible to do. The odor produced tends to have a penetrating effect on the structure and even on the contents of a home. A cleanup service would normally involve certain actions such as pulling up the carpet, treating and sometimes replacing the wooden subfloors, cleaning, using disinfectants and sealing in order to prevent the recurring of odor and stains.
 A hoarder cleanup can help in providing restoration services.
Restoration services are expected to involve a number of experts who come from every aspect of construction. These include roofers, plumbers and architects. The hoarder cleanup service companies can also form their own in-house team of professional and trained estimators who are also experts in conducting negotiations with insurance companies wherein they act as representatives of the interests and rights of their clients.
 A hoarder cleanup can help in searching and recovering of valuables.
Companies that have trained professionals in a hoarder cleanup service understand the importance of sorting belongings for the purpose of recovering items that are deemed as not only valuable but also sentimental to the occupant. They also provide assistance in distributing items that are valuable to each member in the household. A hoarding cleanup can be expected to involve hundreds or even thousands of valuables to search. Despite the huge number, the service promises to dispose items that are no longer wanted and useful while assuring that items which are still valuable and sentimental are recovered.
How to arrange your Hard Rubbish Collection
The quickest and easiest way is to call 1300 782 247 and have a chat to a friendly operator about your situation. They can quickly give you an idea of cost and timing and if it suits you, you can arrange for a pickup at your convenience. The truck will call you on approach and they will even sweep up afterwards – leaving your hard rubbish collection a distant memory and your house clean and uncluttered. Call 1300 782 247 for a fast, easy quote or use the online form.
Hoarder Cleanup Help Sydney, Melbourne, Adelaide, Brisbane, Perth & Gold Coast
---
---