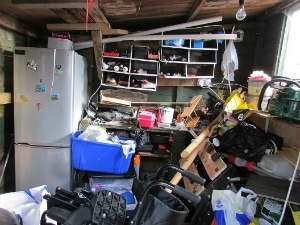 Hoarding may seem like a daunting issue to deal with but it doesn't mean that a hoarder should lose hope. It's true that the volume of clutter, trash and personal items can be an overwhelming sight to behold yet it's always not too late either to seek for a change.
Over the years, the team at 1300Rubbish have helped thousands of hoarders in not only bringing their homes to its livable state but also in bringing their lives back to a more normal phase. With several hoarding cleanup options to choose from, 1300Rubbish can definitely clean out, organize and recover items that are still valuable to the owner while assuring impressive results that should be long-lasting.
Hoarding Cleanup Do's
The hoarding cleanup team at 1300Rubbish is made up of professionals and expert individuals who are trained how to successfully connect with the hoarder. By placing ourselves in the hoarder's mind and understanding their emotions, we are able to convince and let them know that we will be there for them even after the cleanup.
One of the best ways to make a connection with a hoarder is by encouraging one to talk about the situation. Some of the topics that may be discussed include the safety that is involved in reorganizing the home; the system or process that will be used in removing unwanted items; the reasons why the hoarder is keeping the items; the option of donating the items to those who may have a need for them; the promise of not divulging the hoarder's situation to anyone without their consent; and the attempt to make the hoarder realize from the beginning about their below standard level of living condition as the first step in getting rid of clutter.
Hoarding Cleanup Don'ts
Not too many people realize and understand that a hoarder would usually feel low and embarrassed of his situation. Our professional team knows the importance of making the hoarder feel accepted and understood. We don't treat the clutter like an ordinary "stuff" that should be thrown away. We know very well that each and every item in the house holds a sentimental value and connection to a hoarder.
Our team at 1300Rubbish are also trained to have good temperament and show this by avoiding anger at all cost. Not only will such emotion lead you anywhere but also it will give the hoarder a scare. We have to remember that the hoarder has been putting up with this type of living situation for several years and as a result, it has brought a certain level of tolerance to the point that everything seemed to be normal and acceptable.
Other things that should be avoided include treating the hoarder like a child; making them feel like they are criminals; and allowing the hoarding situation to create stress.
Hoarding Cleanup Success
Contact 1300Rubbish to get professional, sensitive and respectful help with your hoarding problem. Our team can help in making the whole hoarding cleanup process as smooth and successful to the best of our ability. Whether you need help for yourself or for a loved one, we will always be ready to give our support and make your home the way it should always be…safe, liveable, and most of all, clutter-free.
---
---