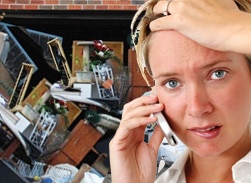 When you think of household rubbish removal you normally think of taking out the garbage bin or the good old council cleanup days that seem to take forever to arrive. When you do a serious spring clean, clean out or some minor renovation work the rubbish can quickly get to the point where putting it all in the bin is completely out of the question, or waiting for council cleanup will take too long. Skip bins are often a hassle and can require council permits if on the street – and if you are really unlucky some neighbors might take it upon themselves to help you fill it – but with their rubbish instead of yours!
Rubbish removal for your household – when you want it
Cleaning up and getting rid of clutter and rubbish from around the house can be a refreshing change for your household but its also hard work. The last thing you want to be doing is adding more work to the task but having to cart it to the tip somehow or lugging it to the curb on council cleanup day.
Household rubbish removal made easy
There is an easier way – on any given day 1300rubbish are removing rubbish from households around Brisbane, Sydney, Melbourne, Perth, Adelaide and the Gold Coast and recycling what they can and disposing of the rest. The great thing about their service is that it is "hands on", meaning they will remove the rubbish from where it lays. This means you can have a handful of rubbish piles in convenient locations and simply direct them to the piles and let them get to work – being rubbish experts they will get it loaded and will even sweep up the area afterwards.
Give yourself a break
Why not give 1300rubbish a call for a quick, obligation-free quote. You can then work out the costs of your alternatives (make sure to factor in your time – it's valuable) and work out the best way for you.
---
Get a fast obligation-free quote, call our friendly operators – 1300 78 22 47
Or get a quote via email using the form below:
---