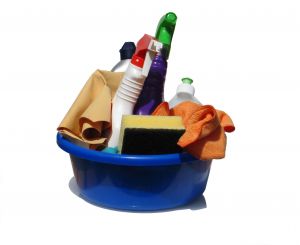 The Big Spring Clean. For some this is a time to look forward to as we clear out our cupboards to make way for new fashions and throw away any junk we've been hoarding over winter. For others, the term "spring clean" unearths a deeply embedded fear and dread that has them running back under the covers and praying for winter. If this sounds like you and  you're too afraid to reach for the garbage bags and feather duster, have a read through our top reasons to clean this Spring.
1.) Relieve yourself from clutter – toss out the toxins and improve your physical health
Practically, spring cleaning makes a lot of sense. It's the best time of year to open windows and clear the air without it either being too cold and windy, or letting in pesky flies and mosquitoes.
It's also the one time of year where those with allergies find themselves reaching for the Clarityn and the tissue box. The increase of pollen in the air during spring and summer can make you more sensitive to other allergens, such as dust and animal hair, making spring the perfect time of year to give your home a thorough clean, before the summer season hits; you're home will become your dust free haven away from the pesky pollen.
Clearing out your household junk and cleaning your house thoroughly can also be a form of exercise. Vacuuming, for example, can burn up to 165 calories per hour; washing the dishes, scrubbing the kitchen floor and washing the windows can also add to your 'spring clean workout' and help you get your beach body back in shape for summer. Apart from the physical aspect, exercise also makes you happier, healthier and more energetic, which makes for a much more beneficial spring clean.
2.) Rubbish removal for your home and mind.
It's also important to remember the psychological benefits of a spring clean, as you are not only clearing out your home, but you're also removing all that stress-inducing rubbish from your mind too. There's nothing like that feeling of dread when you realise that you can no longer put off the cleaning or the lawn mowing. When you put things off you may be able to forget about them for a short time, but they will always be there, adding more stress on your ever expanding work load. By getting it all done at once you will be taking one very large load off your shoulders, freeing up valuable space in your mind and your home.
Psychologists believe that by stripping out the junk from your home, you're actually aiding your own self-growth by allowing yourself room to grow as a person. At 1300Rubbish, we just think it's a pretty good idea to throw out all last years Christmas presents you haven't used to make room for the new ones you'll be getting in a few months time.
3.) Save yourself money with your spring clean – remove the rubbish and organise your finances.
So if improving your physical and mental health wasn't enough to have you reaching for the feather duster, how does saving money sound? You may not see how your annual spring clean can benefit your bank balance, but it's true. For starters, cleaning your house and stripping out the rubbish will make it more welcoming and homely. You'll want to spend more time at home instead of spending money on restaurants and cinema trips. See? You're saving money already.
Furthermore, by having a thorough clear out of all your belongings, you'll probably find things that you thought were long gone. Have you ever gone out and resentfully bought something new and expensive because you thought you'd lost you're old one, only to find it buried at the back of your wardrobe a month or two later? Most probably. Your annual spring clean will ensure that you don't continue to make this mistake and you'll avoid wasting your money on items you already own.
This theory works for your food cupboards too. Have you ever had a proper look at what's lurking at the back of your pantry or freezer? You'll probably find that you've hoarded enough food to feed you and your family for a week, but you have no idea. Organising what food you need as opposed to what is rubbish, will allow you to become more economical when it comes to your weekly grocery shop.
4.) Relocating this spring? Your rubbish doesn't need to relocate with you.
Spring is a perfect time for moving house – you can be settled into your new home to enjoy summer and Christmas, and you're home and garden will be looking beautiful in the bright Spring days, making it easier to sell. You just need to ensure that your rubbish won't be tarnishing the first impressions of your prospective buyers. It's widely believed that when it comes to buying a house, a buyer will make up their minds within the first few minutes of entering a house and sometimes before they even step through the door. So don't let a house full of junk and clutter ruin your hopes of a quick sell and give your home a thorough clean out this spring.
Rubbish removal before your move will also mean that you can be selective with what you chose to relocate with you. By having a careful clear out before moving day you'll be amazed at how much rubbish you'll find and you'll avoid wasting money paying furniture removalists to relocate your rubbish.
So dig out your garbage bags and grab your duster – 1300Rubbish will be with you every step of the way with hands on rubbish removal for your office or home.
So whether you'll be spring cleaning the office or the house this month, never fear – help is at hand. Once you've painstakingly rooted through all of your wardrobes and cupboards, organised your shelves and drawers and dusted every surface and corner of the house, 1300Rubbish will be there to help you pick up the pieces. We can't imagine you'll have the energy left to take all of your old junk to the tip (what with all the exercise you've been doing whilst vacuuming), so we'll take the hard work out of your rubbish removal.
Our service is affordable, fast and ridiculously simple. Just give one of our friendly customer service team a call today for an obligation free quote over the phone. We'll organise a collection time to suit you and book within a two hour window so that you don't have to wait around all day – we can even organise collections so that you don't have to be home at all. Our drivers will do all the work for you and even sweep up after themselves. So relax, you've worked hard, call 1300 78 22 47 today.