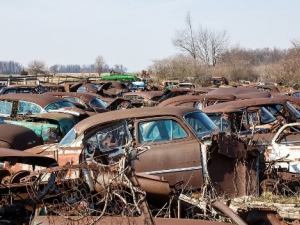 Many people would normally use their backyard or any vacant space as a parking area for old and unwanted cars. These cars are no longer worth fixing or have lost value to be qualified for selling to the public.
While there doesn't seem to be any health threat to humans from keeping an old and unwanted car in our property, it cannot be denied that these cars that are parked and left idle for many years can be an eye sore. Sooner or later, we need to come up with a decision on whether to get rid of the old car or leave it and allow it to rust further for many more years to come.
Putting Your Car In The Junk
So you're still undecided on how to get rid of your old car. You've thought about putting your worries on hold by finding an easy way out and that is parking your car in the backyard. After all, it's the very first car you've had and throwing it away is like forgetting all of those nice memories that came along while you were still driving the car.
If this sounds like you, you may have to consider doing a few simple things to save yourself from future worries.
First, remember to remove all of your personal belongings.
Most people treat their cars like a second home. They use it as a place where they can keep personal belongings which tend to accumulate over time. If you have been using the car for several years, you may have forgotten some of the items that you've placed inside it. When the time comes that you've decided to sell your car to the junk shop, it is therefore important to make sure that you've taken out all of these personal belongings prior to throwing the car away.
Second, search for car components that are still valuable to sell.
Some of these components that you can consider reselling include expensive car battery, stereo systems and GPS. Selling these items can definitely make you earn a few extra bucks. Recyclers can even pay for the lead found in your car's battery regardless of how old it actually is.
Third, make sure that you have a valid car title.
While it's possible to sell your car with no title on hand, it's definitely not an easy thing to do. You need to have a valid car title in order to transfer the ownership of your car to the junk shop. Furthermore, you need to cancel your insurance and return the license plates.
Fourth, remember to use up your gasoline.
Before you call a towing company to get your car towed, make sure that your car's gasoline has been used up. Gasoline in the tank can be a nuisance to junkyards and should be drained fully prior to recycling or gathering car scrap parts.
Fifth, remove the car's license plate.
As soon as you've decided to sell your car to a junkyard, remember to remove the license plate. Depending on your location, you may be required to return the license plate to the motor vehicles department as a pre-requisite to cancel your registration. This can also be a requirement when cancelling your car insurance policy.
For more information on how to get rid of an old car, you may call our office at 1300Rubbish by dialling 1300 78 22 47. Call us now and talk to our friendly customer service team to learn more of our professional and reliable rubbish removal services.
---
---