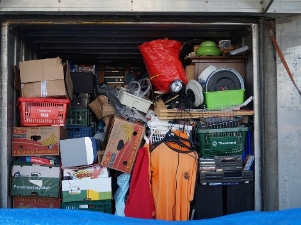 Our professional and reliable junk removal services can help you achieve a clutter-free and junk-free home while using the latest trends in hauling away junk. At 1300Rubbish, you can be assured that the work will be handled by a team that specializes in rubbish removal whatever type of situation you may be in.
Full Junk Removal Service
Whether the service you need deals with cleaning up of an abandoned rental area, the estate of a deceased individual, a post-construction site or a simple buildup of junk that should be discarded properly, our team of junk removal experts are always ready to help. We have the necessary skills and know-how in handling various junk removal tasks while making sure that all unwanted items are taken cared of. Moreover, we can consider the option of recycling junk whenever an opportunity comes in. This include taking items such as electronics and batteries to their respective junk depositories as a way to ensure better handling of rubbish.
Residential Junk Removal Service
We cover just about anything that needs junk removal services in residential places. These are just some of the things that our junk removal team can help you with:
1. Yard Waste Removal and Disposal
2. Water Heater Removal and Disposal
3. Washing Machine and Clothes Dryer Removal and Disposal
4. TV Removal and Disposal
5. Kitchen stove, Oven and Microwave Removal and Disposal
6. Scrap Metal Disposal and Recycling
7. Property Junk Cleanout Services
8. Garden and Landscaping Equipment Disposal
9. Unwanted Junk Hauling Services
10. House Cleaning and Clutter Removal
11. Hot Tub Removal and Disposal
12. Garbage Removal and Disposal
13. Furniture Removal and Disposal
14. Electronic Waste Removal and Disposal
15. Debris Removal and Disposal
Post Junk Removal Cleanup
After every junk removal and disposal, our team at 1300Rubbish conducts a thorough cleanup of the area. This is to ensure that all traces of debris are gone. The cleanup can involve certain actions such as sweeping, rinsing and just about anything that's needed to ensure that your space is absolutely ready for a new purpose.
Junk Recycling and Donating
We take as much opportunity as we can when it comes to recycling and donating junk items. Typically, our trucks would make pre-determined stops at various locations that accept items for recycling and donation. Some of the items that can be considered for recycling include electronics; paper; cardboard; debris from land clearing, demolition and construction; dirt/concrete; yard waste and wood. Household items such as old furniture and mattresses can be brought to thrift stores and anywhere that accepts pre-owned items. Junk items that are not qualified for recycling are therefore disposed properly at designated junk disposal locations.
Getting a Professional Junk Removal Service
To get the best and cost-effective junk removal services, simply dial 1300 782 247 to speak with our friendly chat operator. A single call will provide you with the details you need in terms of cost, timing and pickup schedule with the latter being customized at your convenience. For a quick and "no fuss" quote, dial the number now or just fill in our online form.
---
---