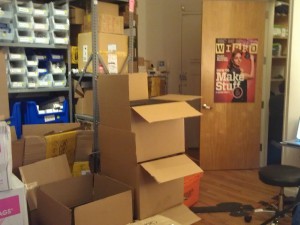 Planning to move to your new office? If you've been doing your business in the same office location for 5 or more years, there's a great chance that you have accumulated files and old equipment which are kept hidden in storage areas and seemed to be forgotten about their existence. Moving to a new office is therefore a great opportunity to sort out office clutter and get rid of unwanted furniture and office equipment.
Moving to a new office can therefore seem like a time and energy needing task. To make things worse, it also entails a lot of cleaning up of all the rubbish that were accumulated by the business or company over the years. The best way to deal with such a situation is by getting help from a professional and reliable rubbish removal company.
Clearing Off The Office From Clutter
Prior to your chosen schedule of moving office, you can start preparing for that day by identifying what needs to be retained and brought to the new location and what has to be given up and thrown away. It can also help a lot to contact a rubbish removal company and discuss how much rubbish they are willing to take.
Our team at 1300Rubbish can help you move your office equipment and furniture to your new location. We provide various services to make sure that you have a smooth and successful new office move in.
Sort Out and Label
For a faster way of moving to a new office, it is advisable to begin sorting out your office stuff and equipment and assign appropriate labeling to each item. This way, you can easily figure out which item is still worth keeping and which one has to go away.
These are some of the labels that you can use to segregate more efficiently.
Computer and other IT Equipment
Timber, Carpet, Tiles and Vinyl
Grid Ceilings, Plaster and Wiring
Storage Equipment
Pantry Stuff
Joinery and Office Cubicles
Office Shelves and Filing Cabinets
Office Furniture and Fixtures
Day of Moving to a New Office
Our team at 1300Rubbish can facilitate your office move in by doing a full hands-on clearing out service. Apart from taking care of everything such as lifting and carrying of office equipment and furniture, we also make sure that every passageway is clear from obstruction. In short, you don't have to worry about elevators, stairs, corridors and hallways as we can definitely push through with the transfer that's absolutely quick and safe for everyone involved.
We can make arrangements such as:
locking off the elevator to use it exclusively for carrying and lifting office stuff and equipment
removal of classified and specialty office items to the new location
coordination of a group of movers for a more effective way to dispose unwanted office furniture
devise a useful system of recording and tallying to avoid miscalculation and mishandling
To learn more about what we can offer, simply dial 1300Rubbish (1300 78 22 47) and speak to our friendly customer service team. Alternatively, you can also use our online form where you can enter your contact details.
---
---