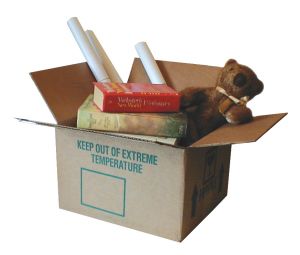 1300Rubbish know all about moving. We're not sure if you've heard, but we've recently moved our offices and my gosh, it's traumatic. It begins with making that first decision of course, deciding to take the plunge and move somewhere new. And then there's dealing with real estate agents, explaining to each and everyone what type of property you're looking for – a unit, a house, a mansion!? And when you finally find that special somewhere, it's time to start coordinating the move, packing your things, and don't even get us started on the unpacking.
We've compiled some of our handiest tips to help you through this tough time and, you've guessed it, it all revolves around rubbish removal. It might seem like the last thing on your mind when you're planning your move, whether it's a home, an office, or a room, but being well prepared can help take a load (of rubbish) off your shoulders.
1.       Moving on Up – Rubbish removal before the move
Before you organise for the movers and packers to come in and start quoting the cost of your move, make sure you've given your home or office a thorough spring clean. Consider everything, such as the items in your wardrobe, the food in the pantry and the amount of linen in the cupboards. Have you ever taken stock of everything you have? I mean, do you really need the 5 pans that are exactly the same size, just at varying points of decay? Or how about the champagne flutes that you still keep, although you no longer have a matching set? And let's not get started on how long the gravy boat you were given as a wedding gift has been sitting unused!
When the packers come in to quote your move, they will account for everything you have. If you don't think you'll need it or, in the case of a downsize, you might not have somewhere to put it, then get rid early on. It only makes life simpler, and three months down the line you'll probably have forgotten you ever owned it at all. Not only will you make life easier, but you'll probably save a packet too.
2.       Garden Party – strip out the green waste from your back yard
Gardens can often be forgotten about in the build up to a move, and then seem to creep up on you (literally) on the big day. Suddenly you have broken bikes, flower pots, and a pile of green waste to get rid in the two hours before the new owners arrive. Often your removal men won't take it with them in their vans as it can void your insurance, so don't forget to think about this area early on in the moving process.
At 1300Rubbish we help our customers remove green waste on a regular basis, so we're completely at ease with gardens. Give us a call a few weeks before your move and we can come and help take a load off your mind. You could even arrange for us to turn up on the big day, to take away the remaining pieces of junk that have crept up on you during the move. It always seems like the more you clear things out, the more rubbish appears, and we completely understand how that feels.
3.       Un – Boxing Day – the post move household rubbish collection
Even if you think you've been thorough in your rubbish removal before the move, sometimes it's the reality of unpacking that really stresses how much junk you own. Believe me, I've been there. Unwrapping 10 layers of paper to uncover yet another espresso cup that I've never used because, in reality, I only drink flat whites. Sound familiar? Take the opportunity and strength that only comes fatigue and boredom, to really get ruthless with your junk. If you haven't used it for years, then will you really miss it? Maybe it's that lone earring that you've kept, hoping you'll find its pair, or it could be the bike you've been meaning to fix for the last 5 years. If it's broken, chuck it. You won't miss it.
You may have noticed a theme to our helpful hints, and you'd be right. Carefully coordinating your rubbish removal is the key to a successful move (after finding the perfect house of course), and with 1300Rubbish it couldn't be easier. We can normally organise a rubbish collection with you within 24 hours of your first call and are completely up front about our costs; our aim is to make your life easier with our hands on rubbish removal service.
All you need to do is give us a call on 1300 78 22 47 (freetoll) and one of our professionally trained customer service team can guide you through the process. We're a small team, so you won't be passed around a massive call centre, you can ask for us by name and we'll be there to help. It's this dedication to customer satisfaction and happiness that makes us one of Australia's leading rubbish removal companies. Call us today and help us help you through this stressful time.