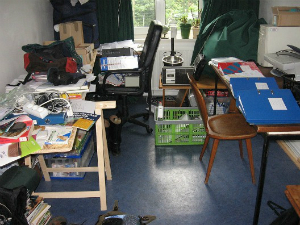 Doing an office clean out may seem like a daunting task. However, a cleaner workplace is also one of those things that most people use as a way to judge a coworker. Whether we admit it or not, we tend to judge a coworker according to the cleanliness of his desk or workspace. We also tend to admire those who have an "aesthetic" sense when it comes to organizing and decorating their work desks.
The Essence of a Good Cleaned Out Office
An office filled with clutter can lead to certain repercussions that may seem unimaginable from the very beginning. When you keep information and other resources such as an equipment that's no longer in use or an overstock of supplies, all of these would end up eating too much office space and storage. As time goes by, workers will eventually forget that they have certain resources or if they do remember, they may be unable to find the information that they need. This can cost the company thousands of dollars or even millions in case there's an audit needed or when there's a need to respond to a lawsuit.
Understanding the Circumstances Leading To Office Clutter
Creating a cluttered office is not a direct result of forgetting the need to throw away and get rid of crap. While there's no exact explanation on why an office becomes cluttered, certain trends can be identified which are commonly found among people who have clutter in their homes and offices.
First, some people view possessions as a great security provider and as a barrier against the feeling of scarcity.
Next, keeping possessions is an easy way to put off the decision to throw it away.
Third, some people manage their time ineffectively which makes them unable to sit down and clean up their desk.
How does office clean out work?
The team at 1300Rubbish comes fully equipped with the important resources to help you gain a lot from an office clean out. Armed with years of unparalleled expertise, we can definitely get the job done fast and make sure that everything is carried out with utmost care. In terms of dealing with office items that are still in good quality and condition, we would donate such to a nearby charity office at no extra cost on your part.
Once we arrive, simply point to the office items that needed to be removed. Upon hearing your advice, we shall haul your debris away and round up the cleaning of the area to give it a clean and orderly look. Furthermore, do remember that we recycle and donate your discarded office items whenever possible.
Allot at least one day for office clean out.
We highly recommend that at least one day is saved as the day when an office clean out is performed. Make sure that this day has been planned out several days or even weeks ahead. Everyone in the office must also be well-informed that you are conducting an office clean out day. The best time to choose for an office clean out is when office demands are not high or during the off peak season.