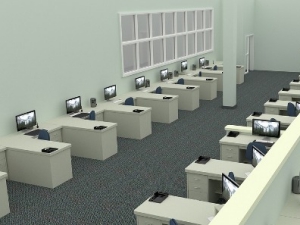 Office cubicles are typically made of a variety of construction designs and materials. They are also generally lightweight and are designed to be mobile and expandable. As companies and businesses expand and downsize over time, it often leads to adding and removing cubicles in order to create sufficient workspace.
Due to their design and material component, office cubicles are basically easy to disassemble. While they usually come in various shapes and sizes, the cubicles found in most offices are said to be square. Taking them apart may not take that long particularly if you are doing it with someone else's help. Some of the tools you can use in removing the cubicles include a ladder, rubber hammer, wrench and a flat screw driver.
Easy Cubicle Removal
Just like any other home or office projects, removing cubicles need to be executed in an organized manner so as to obtain desirable results. Whether the cubicles and other partitions in the office are built in or self standing, it definitely pays to know a few simple tricks needed to dismantle them easily and quickly.
Make sure that all electrical devices as well as any wiring leads that bring Internet, phone and power to the cubicle are disconnected. You may need to contact an electrician and shut the power off at the breaker if you're dealing with hardwired cubicles.
Remember to remove all the cubicle's shelving units and built-in furniture. You may need a buddy while you hold a large desk when detaching it and carrying it away.
Use a standard screw or any other appropriate tool when you need to release the panel connector. You can also use a pair of office chairs for supporting each side of the cubicle's least supported wall.
Study and understand the connection method that was used to secure the cubicles' panels. Usually, rods, screws and spring latch systems are used with a pair of connectors in every panel.
Allow unused panels to lean up against the wall of a storage area or a supply cabinet to reduce the amount of floor space that they can possibly take up. Remember to stabilize these cubicle panels and keep them from sliding or falling by pushing them close together.
Move the panels out of the office room one at a time. Use a zip-top plastic bag to keep all the screws and connectors for rebuilding the cubicle later.
Recycling Office Cubicle Walls
Companies would decide on removing cubicle walls from their premises when there's a need to downsize or change locations. Dismantling cubicles as well as hauling and recycling can be a tedious process.
After dismantling, cubicles are then loaded on a truck and brought to recycling centers. Here, they are smashed, crushed and torn apart with the use of a heavy equipment. The remnants of the process are then sorted into the proper waste stream. The gathered steel material is baled and then sent away to undergo smelting.
Need help in removing the cubicles in your office? Call our office today at 1300Rubbish and we will do all the dismantling and other hard work for you. Just dial 1300 78 22 47 and our friendly customer service team will be more than glad to answer all your queries. Call today and get a free and non-obligation quote.
---
---