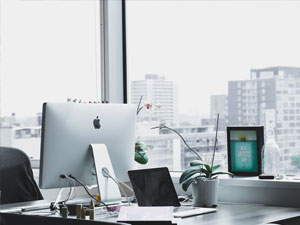 Is your office décor stuck in the 1980's? Here are some useful tips to bring your office décor up to speed to impress your potential customers and make your employees want to be there!
Get rid of: Wallpaper
Replace with: Freshly painted walls
In some cases, wallpaper can look nice on an accent wall in a unique design. However, most office wallpaper is usually old and may even be peeling! Not to mention the tacky designs of most styles – Let's fix that! If your office lacks a fresh paint job, it may be time to rip that paper off and replace it with clean, freshly painted walls. To dispose of the wallpaper, you're going to want to put the used wallpaper in your regular rubbish bin as it is not recyclable. This is because it contains a wet strength additive which prevents the recycling process to properly separate the paper fibres. Not only will a fresh paint job change the look of your office to make it more professional, but you can also choose colours based on your own brand and logo colours. This makes a business appear more streamlined and sophisticated.
Get rid of: Cord insanity
Replace with: A strategically-placed pillar
Are the cords in your office a tangled mess of technology insanity? It's time to get organised. Call in the professionals to properly separate your cords and filter them up a pillar into the ceiling. This is an easy way to get rid of cord clutter and also add to the décor of your office. Always make sure a pillar is created in the centre of a room to give a room a more structured feel. Organised surroundings naturally make your employees feel more organised. Lack of cord clutter gives a more professional and 'together' look to an office space.
Get rid of: Old desks and office chairs
Replace with: Sleek looking desks and comfortable office chairs
Replacing old bulky office furniture with new, trendy minimalist furniture will make your office appear sleek and systematic. A new trendy décor strategy in an office space is going for white desks or timber desks with black minimalist chairs (with a supportive back). All of the furniture in the office should be streamlined. The chairs and the desks should be the same design and colour. It's an office, not an antique store. Matching furniture in an office makes your brand appear accomplished and polished. To dispose of old office furniture, your best bet is to firstly contact a furniture and office liquidator to collect it. Many liquidators will collect old furniture for refurbishing and resale. Luckily, furniture at the very end of its life can be safely recycled and separated into material streams to be process accordingly.
Get rid of: Old bulky technology
Replace with: Wireless smart technology
Nothing makes an office look quite as tech savvy as having wireless technology – Wireless headsets, mouses and keyboards create a high tech feel while also being extremely easy to use. Investing in wireless technology will make for happy employees and is a very smart technology investment. To dispose of old electrical cords, take them to your community's e-waste recycling facility or call a rubbish removal company to come collect your e-rubbish and make sure it is disposed of in the proper manner at the correct facility.
Out with the old and in with the new! Get your office into the 21st century by disposing of old wallpaper, cord clutter, old furniture, and bulky technology. Create a more sophisticated office with freshly painted walls, a new pillar, sleek minimalist furniture decor, and high tech wireless technology – And be on your way to having your office space looking its best.
Kaylyn Jeffrey is the marketing and content specialist for Service.com.au – an online platform that connects everyday Australian's with local service providers.