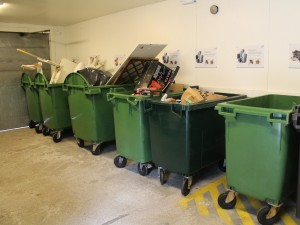 Business owners understand fairly well how their office spaces can become easily cluttered with rubbish. As years go by, these work spaces become cluttered up and overflowing with unwanted rubbish which can affect other areas that should otherwise remain clean and tidy.
If you have been using the same office space for decades, you may have noticed how rubbish can easily accumulate over time. Your skips are consistently overflowing. You see piles and piles of empty cardboard boxes. Broken and unwanted office furniture are stacked against each other. Everything seems like in chaos as rubbish continues to accumulate day after day.
Office Furniture Removal in Sydney
One of the best ways to reclaim a valuable office space is by getting rid of your old office furniture. It is also a good way to enhance your office's visual aspect since there will be no unwanted furniture in sight. You can also benefit from the de-cluttering effect of removing your outdated or broken furniture and start using the extra space to gain more productivity. In order to increase the efficiency of your office spaces, you can call our team at 1300Rubbish and rely on our professional office rubbish removal services. We can help you gain more out of your office space and enjoy a more conducive working condition by clearing up every clutter.
What We Can Offer
We offer removal services of various forms of office rubbish. These can include removal of:
Furniture rubbish
Paper rubbish
Electronic rubbish
Bulk rubbish
Yard rubbish
We can collect and remove office rubbish at your preferred schedule. With our years of experience in the rubbish removal industry, we can assure you that your office rubbish will be handled using proper and modern techniques in rubbish removal and disposal. By calling our team at 1300Rubbish, you have already made the best choice when it comes to office rubbish removal in Sydney.
Electronic Rubbish Removal in Sydney
If you have relied so much on using electronics to carry out your business activities, you have great chances of accumulating broken and unwanted electronics items. These can include PCs, laptops, monitors, copiers, scanners, printers, paper shredders and even projectors.
We can remove all kinds of electronics in your office and make sure that every item will be handled with utmost care. Whatever types of broken electronic items that need disposal, you can rely on our electronic rubbish removal services which are the best services that you can have in Sydney. Stop making use of your office as a "warehouse" of your old and broken electronic goods and start taking advantage of getting more useful office spaces for that added productivity.
Large Office, More Furniture
For large offices that can accommodate up to 100 employees or more, this could result to an accumulation of a huge number of broken and unwanted office furniture. If you need help in the removal and disposal of old office tables, chairs, filing cabinets, office shelves and more, you can rely on our office furniture rubbish removal services by calling our office at 1300Rubbish.
---
---