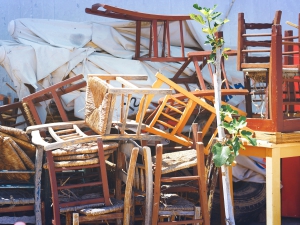 Whatever reason you need to get rid of your old furniture, it makes for a daunting task. The process of identifying the pieces that need to go and getting them cleared is arduous; the job demands lots of time and energy. Interestingly, large bulky furniture does not qualify for curbside pickup. Those that do are collected only during a couple of days in a year, requiring the right permits and tags. The easiest, and probably the most effortless way to dispose of old furniture is to seek services of professional furniture removal companies.
How Can Furniture Removal Companies Make a Difference? We've already noted a couple of problems you are bound to face if you plan to dispose of furniture by yourself. Let's check out what you can expect from a professional job.
Skilled staff
Removing furniture is by no means a trivial task. While modular furniture can, of course, be easily dismantled and shifted out of an office or home, it is those larger one-piece models that demand effort and care. The job can get more challenging based on the condition and size of the furniture, the material it is made of, and from where it needs to be cleared.
Wood and steel furniture pieces are heavy, while those with fragile glass tops need additional care. Furniture with smooth finishes, on the other hand, can prove slippery. Clearing furniture from a multi-storied apartment/office is not the same as cleaning up an old pile of furniture rubbish from a garage or flood ravaged home.
The skill, experience and physical strength of the workforce employed by professional firms can tackle all types of furniture removal requests.
Transport
Passenger transport vehicles are probably not suited to move furniture. Even if you manage to move the furniture outside, you will have to hire a suitable vehicle to take it to the disposal site. A furniture removal company, however, has the necessary infrastructure in place to shift the furniture out of the house and transport it to a warehouse or disposal location.
Post-Removal Cleanup
Clearing furniture piled up in the garage or broken furniture and fittings left behind by your tenant can literally sap your energy. Post removal cleanup comes in quite handy when you plan to clear out a pile of old rubbish, especially if you are shifting to a different home/office, or sprucing up the place to welcome a new tenant.
Responsible Disposal
You may choose to donate old furniture in good shape or even sell it at a second-hand store. Broken pieces will most likely reach the scrap dealer. Furniture removal firms do the same on your behalf. Apart from donating furniture that is usable, they also take the effort to safely recycle stuff wherever possible. They will destroy them in an eco-friendly manner, conforming to the local laws and regulations.
Furniture Removal Services – How Do You Benefit?
Availing professional services for furniture removal takes the pinch out of the exercise.
All you need to do is place a no-obligation call or online request to the service provider, who then sends their team to clear the place at a pre-agreed time. Simply indicate the items that need to go and watch space get de-cluttered and clean. Get a call back with your quite from 1300Rubbish today!
Irrespective of the location, furniture state and size, the team is usually fully-equipped to tackle any removal request. Anything from electronic waste, renovation waste and old furniture in any condition. It is advisable that you furnish all these details when requesting for the service.
Most importantly, you must consider the potential damage to the floor or walls. Also, broken pieces of decor around the place when the removal job is entrusted to the professionals. The service is indeed valuable if your office or apartment is not on the ground floor of the building!
Getting professional help can save you a lot of time and effort and cut down the costs involved if you were to handle the job alone.
Transport costs of getting old furniture out of your premises are usually based on the volume of space it occupies in the removal service van or truck, in addition to any labour charges involved. Do remember to check the costs before availing the service!
---
---