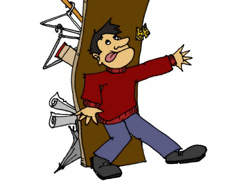 The decorations are down, the presents are stored away and the January blues are well and truly here to stay; 2012 is in full swing. With a New Year should come a new you, and there's no better way to get started than to give your home a thoroughly good seeing to. Whilst the gym can take care of your body, we can take care of your home.
Midsummer Clear Out – Skip the fuss and chuck that junk…
Many hopefulls start the New Year with resolutions and good intentions for the year to come, but at 1300Rubbish we believe that to clear your mind, you'll have to clear your living space too. After all, a tidy home means a tidy mind. Follow our useful tips to successfully clearing out your home this January…
1. Start with the wardrobe- use the four season rule
If your wardrobe is starting to resemble a junk shop during sale season, then it's time to do something about it. A good rule of thumb is to consider whether you've worn something at any point in the last year… if you haven't worn it through all four seasons, then there's a good chance you're not going to wear it at all. If a lot of your unwanted clothing is good enough to be worn again, make sure to take it down to your local charity shop – you'll be doing your bit for a good cause too. However, not all of our old clothes will be suitable for the charity bins – underwear for example, and any clothes that are falling apart, should probably be thrown in your own household rubbish bin.
At 1300Rubbish, we collect rubbish of all shapes and sizes so, even if you only have a few old bags of clothing to be collected, we'll be there to help.
 2. 'No matter where I serve my guests, it seems they like my kitchen best'
It's true; the kitchen is often the hub of any home. It's where the kids leave their bags after a hard day at school; it's where hubbie heads for a cold beer after work, and where we can often find people at parties. So, if the kitchen is the centre point for your home, surely it's important to make sure that it's always looking its best.
Unfortunately, the kitchen also becomes a dumping ground for the whole family's junk. It can often be full of washing, handbags and paperwork. The cupboards are a whole different matter, the back of the cupboards might have tins from before your children were born, the freezer might be looking more like one solid block of ice and your pots and pans have definitely seen better days. Now is the time to strip out anything in your kitchen that doesn't need to be there – de clutter, de frost and de mould everything you can get your hands on. A happy kitchen, is a happy home.
At 1300Rubbish we remove all types of rubbish, including food waste, so if your kitchen cupboards are looking a little past their sell by date, make sure you give us a call.
 3. Remove the waste from your garden, and add an extra room onto your home.
In Australia, we are blessed with some of the best weather in the world, so it's only natural that we all love spending so much time outdoors. Whether it's a balcony, a few acres of land, or a small back yard, your outdoor space can be invaluable in the summer months. But if your garden is starting to look more like a forest than a relaxing haven, then it's time to show off your green fingers and get stuck in.
At 1300Rubbish we're happy to remove all sorts of garden waste, including bricks, soil and cuttings. What's more, we're not afraid to get our hands dirty so, if you've exhausted yourself with all of this clearing out lark, then we're there to pick up the pieces – literally. Our drivers will load the trucks themselves, without you having to lift a finger. They'll even sweep up afterwards.
1300Rubbish – Your household strip out and rubbish removal specialists.
As the largest rubbish removal company in Australia, we strive to provide excellent customer service and satisfaction with every rubbish removal job we take. If we can help make your household clear out slightly easier, then that's all right by us. All it takes is one simple phone call to 1300 78 22 47 (free toll) and one of our friendly customer service team will be waiting to take your call.
Once they understand what it is your looking for, they'll give you an instant, obligation free quote and organise a collection time that works for YOU. Our drivers will call when they are 20 minutes away, and will confirm all costs before starting the work – no hidden charges and no nasty surprises. When it's all loaded up, we'll take it away there and then, and the rubbish is out of your hair for good.
So what are you waiting for? Kick start your 2012 with a household clear out and let go of all the junk from 2011. It's going to be a good year….