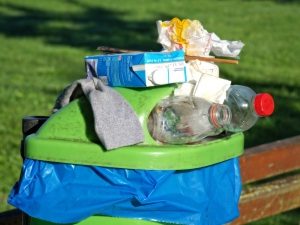 Throwing away toxic and dangerous rubbish items is one thing that everyone should do with a lot of caution. Never attempt to dispose hazardous waste by using regular rubbish services. Always make it a point to store hazardous waste safely and properly until you find an appropriate method to dispose your trash.
Most rubbish collection services provide several ways to handle and dispose toxic household trash. Some of these toxic items include computers, batteries (both regular and rechargeable), phone batteries, unused medicines, used motor oils, empty ink cartridges, plastic shopping bags, LPG (gas cylinders), sharps (needles and lancets) and fluorescent tubes and bulbs.
Likewise, other dangerous rubbish items include those that contain household chemicals. These are insect sprays, nail polish and remover, fire extinguisher, car wax, glues and solvents, rat poison, paints, used cooking oil, brake fluid, floor-care products, farm chemicals, cleaning products and ammonia-based products.
Rubbish collectors are well-trained in handling hazardous waste.
If you need to dispose a hazardous material, the best thing to do is to call a rubbish collection service that provides hazardous waste collection services. Most of these companies offer nationwide coverage as well as a comprehensive hazardous waste collection service. This way, you can be assured that throwing away hazardous waste is compliant with the local legislation.
Rubbish collectors have the right equipment to safely handle toxic and dangerous waste.
From removing smaller liquid quantities to as heavy as 40,000 liters of dangerous waste, rubbish collectors have the capacity and heavy duty equipment to get the job done quickly and safely. There are even those that offer waste collection services 24 hours a day as well as quick response times in the event of an emergency.
Rubbish collectors are licensed to collect and dispose hazardous waste.
Illegal disposal of waste most especially the ones that are deemed as dangerous is considered as a serious offense which may incur hefty fines and penalties. Always separate hazardous waste from regular trash. It is also not a good idea to empty a bottle of hazardous liquid into a sink or toilet bowl as this may contaminate groundwater or worse, it may flow into bigger bodies of water. By using the services of rubbish collectors, you can be assured that you are not violating any regulations while keeping yourself and the environment safe.
Rubbish collectors can collect and dispose hazardous wastes that are usually not collected by the local city council.
Non-household wastes are usually not accepted by the local city council for rubbish collection. These can include two pot automotive paint, agricultural chemicals, paint and paint like products, vegetable oil, gas bottles, school laboratory chemicals, used petroleum-based oil, vehicle batteries, and waste asbestos. These items are usually taken to permanent drop-off centre at the local city council's transfer stations. There are also companies that are licensed to receive certain types of toxic and dangerous industrial waste. When preparing a toxic material for disposal, always wear protective gloves and keep matches and cigarette lighters at a safe distance. Seal the container well and don't overfill.
How to arrange your Hard Rubbish Collection
The quickest and easiest way is to call 1300 782 247 and have a chat to a friendly operator about your situation. They can quickly give you an idea of cost and timing and if it suits you, you can arrange for a pickup at your convenience. The truck will call you on approach and they will even sweep up afterwards – leaving your hard rubbish collection a distant memory and your house clean and uncluttered. Call 1300 782 247 for a fast, easy quote or use the online form.
How Rubbish Collectors Handle Toxic And Dangerous Rubbish Items Sydney, Melbourne, Adelaide, Brisbane, Perth & Gold Coast
---
---