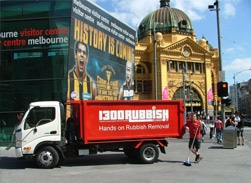 One of the best ways to cope with hectic times is good preparation. Naturally, the plan goes that if you start the process now, it won't all mount up when unexpected things hit and you are left drowning in things to do.
Moving house, relocating an office or a death in the family can be the some of the most time consuming and stressful things that complicate our lives and leave us with no time for anything. They can also produce mountains of unwanted rubbish and junk that seems to create a vaccuum that sucks in time (tidying up) and gets in the way. Its at time like these we need to admit we need some help and get some extra pairs of hands in to get things sorted.
Rubbish Disposal in Melbourne
At 1300Rubbish we have over twenty years experience in Rubbish Disposal, there is no job too big or too small. We've done a variety of Rubbish Disposal jobs in Melbourne, everything from household and garden rubbish to commercial and residential strip outs. Our experience has taught us that no two jobs are the same, each client has individual Rubbish Disposal requirements. That said, we've built our service on being able to adapt to these varying needs.
Rubbish Disposal jobs in Melbourne we help with
– Rubbish removal (we pick it up where it lies, just tell us what goes/what stays)
– Commercial stripouts & Carpet removal
– Deceased estate collection
– Garden and green waste removal
– Hoarding and OCD clutter removal
– Ewaste removal and recycling
– In fact, nearly anything you want to get rid of we can help with (apart from mother-in-laws)
Rubbish Disposal and Recycling
Another thing our experience has taught us is the importance of recycling. Where possible, the Rubbish Disposal jobs we do in Melbourne will be sorted for recyclable materials.
Rubbish Disposal Melbourne, made easy
So if you need Rubbish Disposal in Melbourne, get organised now. At 1300Rubbish our service is designed to make your Rubbish Disposal as easy as possible; we come to you at a prearranged time, we load the rubbish onto our trucks and we'll even clean up the area after we're done.
Please give us a call today on 1300 78 22 47 (local call) for an obligation free quote on your Rubbish Disposal in Melbourne.
---
Get a fast obligation-free quote, call our friendly operators – 1300 78 22 47
Or get a quote via email using the form below:
---