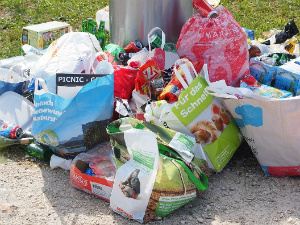 When throwing away rubbish, bear in mind that a rubbish pick up comes with certain conditions. It's not as simple as placing the rubbish outside your home and waiting for it to be collected. There are things you need to consider in order to get a successful and orderly rubbish pick up. It will also save you from the trouble of paying huge fines if the rubbish was thrown away illegally.
First Things First in a Rubbish Pick Up
If you're the type who enjoys organizing, then you'll find it easy to sort out and organize your garbage prior to throwing it out. You can use plastic garbage bags to keep your rubbish. Don't forget to tie them up tightly and be careful not to create a hole.
As for glass and other sharp objects, you can use paper such as newspaper to wrap them instead of plastic garbage bags.
Throwing away an old carpet should be easy so long as the carpet is rolled, bundled, or tied in length of four feet. It shouldn't weigh more than 50 pounds either.
For boxes, they have to be flattened and then tied together when you're throwing them away.
Hazardous waste which includes oil base paint shouldn't be disposed with your rubbish. You need to have a separate collection for it.
In terms of appliances, make sure that the door of an old refrigerator was removed.
Construction materials which include concrete, bricks, sod, dirt and rocks are not deemed as household rubbish. Therefore, it will not qualify for a rubbish pick up service.
Recyclable Items in a Rubbish Pick Up
At 1300Rubbish, we accept rubbish that can still be recycled. Some types of rubbish that are recyclable include metal cans, plastic bottles as well as containers, small household batteries, magazines, boxboard, corrugated cardboard, newspapers, old telephone directory books, junk mail, office paper, kitchen cookware, and retail and grocery bags.
What Happens to Waste after a Rubbish Pick Up Service
Each type of waste is treated differently once they are picked up. The most common action is recycling them so long as they meet certain standards. Mattresses as well as e-waste are usually recycled with the latter locally dissembled first into component parts prior to recycling. Metals are also recycled at a scrap metal shop. Green waste is usually recycled into compost or mulch.
For other types of garbage that are not recyclable, they simply go into the landfill. Some materials that are considered as non-recyclable include shredded paper, ceramics, china, window glass, Christmas lights, light bulbs, pie tins, aluminum foil, Styrofoam, garden hoses, flowerpots, toys, medical waste, syringes and needles. Likewise, containers that have been thrown away but still have excessive foods and liquids in them cannot be recycled. The same thing goes to containers that have hazardous materials such as anti-freeze or oil.
Rubbish Pick Up Made Easy by 1300Rubbish
Our team at 1300Rubbish has the best and the most practical solution to a rubbish pick up in residential places. Our top notch hands on rubbish pick up service will make sure that your rubbish is loaded up and taken away with a guarantee that charges shall only be incurred from what we have collected. Simply place a call to our friendly customer service officer at 1300 78 22 47 and get an obligation free quote.
---
---