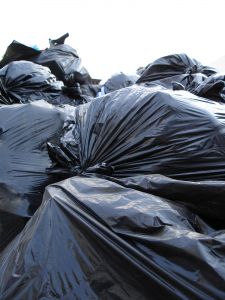 It's been a long year, and as 2011 draws to a close you might be thinking of sorting through some of the junk that's accumulated over the year.
Getting rid of that junk can be a mission in itself so, being the kind and wonderful people we are down here at 1300Rubbish HQ, we've weighed up your options for you and put them all together in nice little package. It's like Christmas has come early….
Skip Bins – ideal for strip outs
One of the most popular solutions to rubbish removal problems are the old, faithful skip bins. Easy to fill, convenient and … well they are the only way of getting rid of pieces of furniture right? Wrong.
Don't forget that skip bins often require council permits to stay by the side of the road. They can also ruin lawns when left for long periods of time. Not to mention the fact that you pay for the entire bin, regardless of how much you fill it. At 1300 Rubbish we charge by the volume of your rubbish, so you only pay for what we take away.  What's more, we accept all sorts of building waste and take it all away with us there and then – so no skip bin taking up space outside your home.
Trips to the tip –DIY rubbish removal
With the global economic recession worsening, many people are resorting to DIY as a way of cutting costs. There's also something satisfying about clearing out all the junk from your home and then seeing it disappear into the dump.
However once you add up the costs of tip fees and hiring a ute, how cost effective is DIY. At 1300Rubbish we understand that time is money, so you can save your time by getting someone else to do the hard work for you. Our fees are also inclusive of any tip fees and disposal costs and we quote all costs before we begin to load all rubbish – so there'll be no nasty surprises.
Hands on rubbish removal – your fail safe solution to garbage disposal
Hands on rubbish removal with 1300Rubbish is the simple way of getting rid of your rubbish. All it takes is one simple phone call and one of our friendly customer service team will price up your job over the phone.
All jobs are booked in two hour time slots, so you won't have to wait around all day. Hands on rubbish removal allows you to concentrate on the finer things in life, while we deal with the rubbish that life can throw at you. Whether it's removing a pile of rubbish from your lawn, or carrying a three  piece suite down from the fifth floor – there's no job too big or too small for 1300Rubbish.
So, call us today on 1300 78 22 47 (freetoll) for an obligation free quote. Let someone else take out the rubbish for a change.