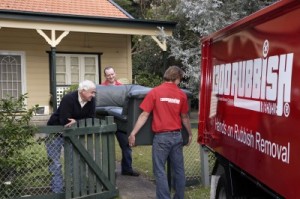 It can either sneak up on you slowly or be dumped in your lap like a ton of bricks – its Rubbish, and the less of it in your life – the better. It's amazing in our modern existence how useful things (sometimes worth significant amounts in their prime) are suddenly transformed into obsolete things that seem to hide in the cupboard or shed like space devouring monsters. Every now and then you will get a burst of enthusiasm to clean up your living space and free the storage space from the tyranny of rubbish – buts it's after an hour or so the scale of the problem can zap our strength.
How DO you clean up the rubbish
Rubbish clean up can take a few forms, and mostly depend on the scale and location of the problem and the amount of time you can spend. The traditional way is to pack it in the back of the car or trailer and cart it to the local tip. It's actually quite amazing how inefficient this is when you think about the time and effort and double handling of everything that end up happening. If you have ever done this you know what I mean – so many hours seem to disappear down the drain and you take days to recover from the work involved. Other ways include skip bins (mostly useful for renos and building waste) and council pickup.
Smarter way of Rubbish Cleanup
Your time is valuable (sometimes more than you think) and as such many people mentally try and put a dollar figure on that time. This is where the idea of outsourcing your rubbish clean up comes in. Professional rubbish clean up companies already have the gear, the contacts (to dispose of the rubbish) and the know how to efficiently and expertly get the rubbish cleaned up. So next time you are faced with a massive (or small) rubbish clean up, remember the number 1300RUBBISH – pick up the phone and get a quote for the work and compare the alternatives. You may find that taking the easy, hassle free road is actually the best possible value solution to the problem.
Rubbish Clean up – just a quick phone call
1300Rubbish can allocate a convenient time and follow your instructions (pick up that, leave that…) making having one massive pile and double handling unnecessary. Once they have packed the truck, they will even sweep up – making the rubbish cleanup a breeze.
Please give us a call today on 1300 78 22 47 (local call) for an obligation free quote on your Rubbish Cleanup.
---
Get a fast obligation-free quote, call our friendly operators – 1300 78 22 47
Or get a quote via email using the form below:
---