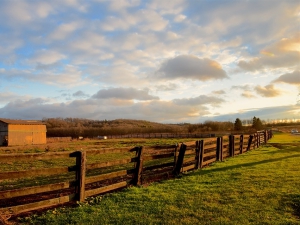 Timber fencing is a type of fencing that uses timber as its material. It is one of the popular types of fencing because not only is the material affordable but also it is strong, durable and reliable. It doesn't require to be treated and maintained in order to last. Moreover, it compliments almost all types of environment and outdoor landscape.
However, there's no denying that a timber fence can be prone to warping, rotting or getting damaged because of the weather. If this is the case, then it's time to get rid of your timber fence even though it may be difficult to do so after you've had it in your home for many years.
Removing An Old Timber Fence
So you've finally decided to tear down your old timber fence. Before you proceed, it may be wise to consider the so-called "fence etiquette" to avoid getting into trouble with your neighbor. Similar to that time when you put up your new timber fence, you need to identify and confirm your property lines before you start to take the fence down. In other words, you should have the right to bring down the fence and that none of the fence occupies that part of your neighbor's own backyard.
Options In Removing An Old Timber Fence
The procedure involved in removing an old timber fence can vary depending on a number of conditions. Determining these conditions can definitely help in measuring the amount of effort that is needed to successfully remove the fence.
These conditions are:
whether there is concrete that was used to secure the fence
whether the fence post had been installed either manually or by using mechanical or hydraulic devices
the size of the timber fence
the depth to which the fence post has been set
the condition of the ground or soil (whether it is dry or wet)
Useful Tools For Removing An Old Timber Fence
When handling power tools such as electric saws in taking down a fence, don't forget to use any with a great deal of caution. If possible, work with a buddy to make the project a whole lot safer and quicker. If you are removing nails as you cut down your fence, it would be safe not to leave the nails all over your yard.
Here are just some of the tools that you can use when tearing down an old timber fence.
Crow bar – This tool is very useful when you need to pry out wedged posts firmly.
Concrete breaker – This will help you in breaking up concrete around the base of your fence posts.
Spade or shovel – This is used for digging and loosening the earth.
Sledge hammer – This is great for loosening embedded posts or moving stubborn parts of concrete.
Hammer – You can use a general purpose claw hammer in removing that part of fencing that is still attached to the post through nails or clips.
If you think that your timber fence is too stubborn to handle and you don't have enough confidence to tear it down on your own, our team at 1300Rubbish can definitely help. Just call us at 1300 78 22 47 and our friendly customer service team will be more than happy to answer all your queries. Call us now and get a free and non-obligation quote.
---
---