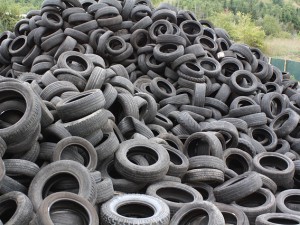 Disposing tyres and paint tins need to be handled correctly in order to prevent the possible harm that they can bring to the environment and to human health. Both items belong to the hazardous and commercial waste categories which need specialist disposal since they are unqualified to be taken to recycling centres.
A Closer Look On Tyres
The ban on used car tyres in landfills has dramatically increased over the years with more and more local governments signing a directive on the issue. There is a huge problem on dumping tyres since an estimated 13 million tyres are found as stockpiled or placed in landfills each year. It has been forecasted that this number will increase by up to 60 percent in less than 5 years as the number of vehicles continues to increase. Currently, an estimated number of 200 million tyres are said to be lying around which doesn't seem surprising since 100,000 tyres are said to be taken off cars, buses, trucks, vans and bicycles every day.
Tyres are designed not to fall apart since they are part of most vehicles that run along the motorway. Not only are they difficult to dispose of, they also have the capability to remain substantially intact for many years. However, they have some components which can break down and leach. Such components include sulphur, cadmium, copper, lead, chromium which are all highly toxic and pose a threat to the environment.
The Danger With Paints
Paints have toxic chemicals such as metals and solvents which can contaminate our groundwater and harm our health. Having said that, paints should not be placed in the garbage bin upon their disposal.
There are at least two basic categories used in classifying paints. The first is latex wherein the major liquid component is water. The second is solvent-based which is said to have a sort of organic solvent.
The following are types of paint that are reusable:
floor paint
tile paint
wood stain
varnish – water or oil based
masonry
primer
undercoat –water or oil based
kitchen or bathroom paint
eggshell and satin paint
gloss paint – interior and exterior
matt and silk emulsion
These paints are considered as non-capable to be reused:
wood preservative
paint stripper or brush cleaners
paint thinners
any paint that has lead
paint tins that have a hazardous symbol
paint that is not in its original container
paint from business or decorators
How to dispose tyres and paint tins
Used car tyres are normally accepted in most car repair garages where they are replaced with new ones. If, however, you have decided to replace your own tyres, taking the used item to a garage can incur a certain fee. Depending on the quality of the used tyre, they can be sent either for disposal or re-treading.
Avoid pouring paint down on sinks and drains which can result to polluting water courses. Only paint tins that are empty or containing paint residues that have dried up are allowed to be placed in a wheeled rubbish bin or brought to any recycling centres.
Need help in disposing old tyres and paint tins? Call our office today at 1300Rubbish by dialing 1300 78 22 47. You can get a free and non-obligation quote from our friendly customer service team.
---
---