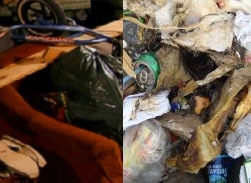 While many Australian people assume when you say "I'm going to take out the rubbish" you are talking about organic type food related kitchen type waste – the phrase might be a little incorrect for that use. Typically when you are referring to organic type kitchen waste that goes into the bin, with the recycling and green waste removed, it could be referred to as "garbage" or "kitchen waste" as it contains things that will rot and decompose.
What is "rubbish" then?
This is more the typical term when referring to the sort of thing you would find on a council cleanup day – things that won't rot like old furniture, metal objects, old appliances etc. These items are typically referred to as "Rubbish" or "Junk" (typically used in the US) and often are too big to fit in the refuse bin. Confusingly people very often refer to a refuse or waste bin as a "rubbish" bin which must be another of the things in English that drive people new to the language crazy. You can also use the term "rubbish" to refer to something that is not of very good quality, like a poorly made movie or even someones opinion – just to add more confusion.
So do I need "waste removal" or "rubbish removal"?
Thankfully you do not to think too much about it when using 1300Rubbish as they can help out with any kind of rubbish. They will take Junk type non organic rubbish or organic type waste removal and green waste (garden waste) and dispose of it for you. They can also take a mixture of items and will do their best to ensure they are recycled if possible or avoid landfill if they are green waste.
Waste removal experts
So if you have any of the above items and need to get rid of them ASAP – give 1300Rubbish a call. They will explain the process and give you an estimate over the phone. 1300Rubbish can pick up waste, rubbish or garden waste where it lies so you don't even have to gather it all in one place – just let them take care of it.
---
Get a fast obligation-free quote, call our friendly operators – 1300 78 22 47
Or get a quote via email using the form below:
---