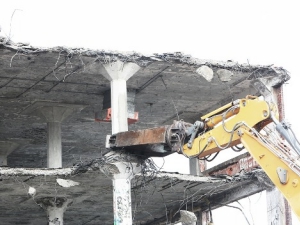 A strip out refers to the partial or total removal of the internal or external components of a building. This can include removal of the cabling, lighting, flooring, plumbing, built-in shelves karma fixtures, internal walls, wall linings, and so on. When necessary, a strip out service can also include a comprehensive removal of hazardous material such as PCB (polychlorinated biphenyl) and asbestos.
In recent years, launching a strip out project has become more popular with more and more clients preferring to develop existing structures against conducting a full rebuild by using the existing outer building. Generally speaking, strip outs would encompass kitchens, bathrooms, commercial buildings, shops, offices and any other projects.
Interior Strip Out
Interior strip out, sometimes known as dismantling or selective demolition, refers to the removal of a few selected parts of a structure or building as opposed to demolishing the structure in full. Usually, a dismantling occurs in buildings or facilities that continue to operate or are still active in their operations. If this is the case, a strip out project must ensure minimum disruption to the structure's operations as well as ensure its maximum safety.
This type of strip out is best for anyone who intends to maximize the value of existing structure or building since it revolves around repurposing or reusing these buildings. Companies that provide interior strip outs or dismantling services should work closely with customers in order to ensure that the project will run smoothly from the beginning up to the end.
What To Expect In A Strip Out Service
Depending on the company that provides professional strip out services, it helps to know and understand what you can expect once you decide to launch a strip out project.
The following items are just some of the activities that you can expect in a strip out service:
furniture removal
lift shaft removal
full scale main structure demolition
plant removal
isolations
free site visits
free pre-works surveys
soft internal strip out (includes pipe work, electrics, data, raised access flooring, ceilings, glazed modules, partitions, and all floor coverings)
During a strip out project, active waste is then removed. These can include static waste products (partition frames, flooring, skirting, strapping, timber shelving) and streams such as false ceiling tiles, carpet and furniture.
Types of Strip Out Services
Most companies that provide strip out services offer several types of strip out projects to match the customer's requirements and needs. Furthermore, strip-outs would normally cover both residential and commercial locations.
The following are the various types of strip out services normally offered by companies.
House strip outs
Shop strip outs
Café strip outs
Warehouse strip outs
Demolition strip outs
Commercial strip outs
Office strip outs
End of lease strip outs
For a quicker and safer way to run a strip out project, you can call our office at 1300Rubbish by dialling 1300 78 22 47. Our friendly customer service team will be more than glad to assist you in your queries. Call us today and get a free and non-obligation quote.
---
---