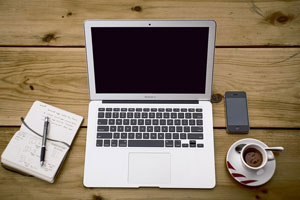 There are a number of great advantages to working or running a business from the comfort of your home. There's far more flexibility where your schedule is concerned, there isn't any travel time to factor into your day and generally being in your home gives you more control.
Though with all of that said, there are however a few things to consider in order to make your home office and the work environment efficient and professional.
List All of Your Essentials
The absolute first thing you'll need to sort out before you start rearranging your house to suit your new home office is making a list of all the things you'll need to make the office work best for you. A good nickname for this list is your 'crucial items' list. This should cover things like a new desk for example, and a computer, printer, phone and various other materials that are specific to your line of work.
When you have this list complete, you can then begin researching and planning a budget for them, as well as order them. While you're waiting for them to arrive you can use this time to begin setting up the office space and planning how it will work.
Don't forget that there isn't a one size fits all item list either. Everybody has different requirements for their jobs, and their lifestyle, so if you work better with a plant on your desk or a certain colour around you, include those things too.
Find the Best Space
Once your crucial items list is complete, then you'll have an overall look at how many items you'll have for your office and how much space you'll need to fit everything. so, then you'll be able to choose a space in your home that suits those needs perfectly, and that could be an entire guest bedroom or study, or just a space at a corner breakfast bar in the kitchen, it's totally up to you.
Keep in mind that a quiet, clean and clutter-free space will be the most productive and comfortable one to work in, so having a private bedroom for the office space should work out best.
A note to make is that if you work with clients in-person, you should try to have your office space close to the front of your home so that its easier to direct them to your office space.
Making Room
Chances are that your home has limited space and that the spare room you're intending to use for your home office has some sort of clutter or items that need to be moved to somewhere else in the house before you can effectively use the space as your home office.
If you have a lot of old general clutter and unused objects in a spare room that needs to be cleared out, then full-service rubbish removal companies like 1300 Rubbish do the entire removal for you. You won't have to deal with boxing up all the objects and trying to lug them to the garbage dump, it's all done for you.
Once you have a tidy and empty space for your home office, then you can move on to the fun parts, like styling with decor items and building out the space to suit all of your requirements that will make working from home comfortable and productive.
Bright Lighting
A key feature of any office needs to be having great lighting. Natural light is best, so do your best to have your office in a space with large windows and other light sources. You'll be able to focus easier in a well-lit space, and it will help you stay more alert.
If you don't have access to great natural lighting, then natural toned bright LEDs should do the trick too. Don't go too warm on the hues or you'll make yourself tired, stick to around 3,400K at really high lumen levels for the most optimum artificial lighting in a workspace.
A tip to remember where lighting is concerned, you should make sure your computer display isn't angled toward lighting or you'll have constant glare issues. So be sure to position your desk and workspace directly below lighting, rather than in front of it.
Invest in the Best Equipment
Finally, the most important part of having a home office is investing in the best devices and materials to make your operations easier. No one wants to deal with a slow computer or a smartphone that doesn't support your computer's OS.
As computers, phones and printers are all fairly expensive its easy to look for the cheapest available, but in the long-term, these devices will make your workflows slower and less productive and actually lose you money and time. So a powerful and versatile computer and smartphone is an office essential.
On top of this, a comfortable and ergonomic desk chair is also paramount for any office. You'll be sitting down for more than a few hours every day, so don't let this take a toll on your health, and invest in a chair that's going to keep you from damaging your back.
Get a fast quote: