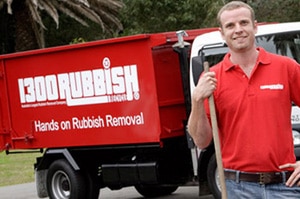 With almost 20 years of experience, our family owned Australian company takes pride in how we help our clients. We are professional, hands on rubbish Removal Company who will do all the work for you.
Skip Bin Alternative
Why hire a skip bin and have to worry about the little things such as; arranging a suitable sized one, council approval, your neighbours throwing their junk in there, or having to pay the price when you aren't even going to fill the whole thing.
Do you really have the time or energy to go through the hassles of a skip bin, or quite possibly the worry of an injury in the process of it all if your rubbish is heavy? Why not just give our team a call and we'll come in a do all the dirty work for you. You will only pay for the volume of rubbish taken away, and you won't need to lift a finger, they'll even clean up afterwards.
We are a professional, on time team, that can provide an estimated quote over the phone, and an upfront price by the drivers before they begin your job.
Whether it be a pile of household junk, renovation, commercial or garden waste, no matter how big or how small the job, give us a call and we will do all the hard work!
Rubbish Removal Sydney, Melbourne, Brisbane, Perth, Adelaide and Gold Coast with 1300Rubbish
---
Get a fast obligation-free quote, call our friendly operators – 1300 78 22 47
Or get a quote via email using the form below:
---