Out with the old – in with the new!
Are you looking for new kitchen appliances? Chances are your focus is on the new, rather than the current – or soon-to-be old appliances.
When updating your kitchen appliances, an often overlooked aspect of the kitchen upgrade is the disposal of kitchen appliances you won't be using anymore.
In this article, we will discuss several different ways to get rid of your old kitchen appliances and what you need to consider before disposing of them.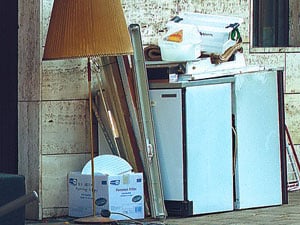 5 Ways to Get Rid of Your Old Kitchen Appliances
1. Hire a Professional Removalist
Professional removalists are equipped to dispose of a range of items that ordinary everyday people might not be able to do so easily. White goods removal includes dishwashers, fridges, microwaves, and other large kitchen appliances.
When you hire a professional removalist, let them know what white goods you have to be removed. It is important to give the removalists a good idea of the items you will need them to take away because they will need to come in an appropriate vehicle.
For example, if you're getting rid of kettles and microwaves, a regular van would do. If you're getting rid of two fridges and an old dishwasher, they will need to come in some kind of large truck to pick them up.
2. Sell Online
Selling online is a great way to get rid of unwanted items. There are many different ways to sell online, including:
Facebook Marketplace
Gumtree
eBay
Local community listings on Neighborhood apps
Just remember to not advertise your full address on the item listing, only your postcode.
3. Retailer Removal
Retailers offer a removal service, although this only occurs when you are having a new item delivered and installed.
Retailer removal is convenient because the representatives of the retailer do all the work for you, and get rid of the old when they put in the new.
While it will cost an extra fee, it pays for convenience!
You need to inform the retailer you would also like to access their removal service when you purchase the new item, so the installers can come prepared.
Retailers who are known to offer this service include:
The Good Guys
Harvey Norman
JB HI-FI
Bing Lee
Dick Smith
Appliances Online
4. Donate
If your items are in good working condition and you want an upgrade, not for the lack of current functionality, you could donate your unwanted kitchen appliances.
Many local community organisations would likely benefit from your working white goods, like schools, charity organisations, women's shelters, homeless shelters, and church communities.
You can contact local organisations directly to see if they would be interested in taking your kitchen appliances.
You can also put them online on for sale pages, but list them as 'For Free' or 'Donate' instead of a price.
5. Council Collection Services
Depending on the time of year, you could put your kitchen appliances in your council collection.
Local councils offer collection services a few times during the year, and you are also able to directly request a clean-up – but sometimes at an extra fee. The City of Sydney offers free pick-up for bulky items if you meet the eligibility criteria.
For example, you could have your fridges, ovens, mixers, blenders, coffee machines, and microwaves collected through the council collection services.
You will need to book this collection service with your local council as this service does not always happen weekly.
When Should You Replace Your Old Kitchen Appliances?
In general, appliances can last anywhere from five to ten years to up to twenty years depending on the machine.
On average, the following items last for:
Fridges: 12 years
Dishwashers: 9 years
Microwaves: 10 years
Dryers: 12 years
Ovens: 13 years
While this might not be the case for all appliances, they are for the most part very durable and sturdy.
You would likely have to replace them after the ten-year mark depending on what appliance you are considering.
Specialists can come and inspect your appliance for functionality and quality control, advising whether or not it will be lasting or if you should upgrade.
If you notice your kitchen appliance slowing down, not working properly, or having other issues out of the ordinary, then think about how long you have had it and ask yourself whether or not it is time for an upgrade.
Some appliances are faulty and the warranty should cover fixing them, especially if the appliance has stopped working a year into you owning it.
If you've owned the appliance for fifteen years, however, chances are you will need a replacement rather than a fix. If the repair is quoted to cost close to, or more than the cost of a new item, buy the new item.
Why You Should Consider Getting Rid of Your Old Kitchen Appliances
People get rid of old kitchen appliances every day. Here are a few reasons why you should consider getting rid of your old kitchen appliances:
1. They take up too much space
Sometimes we need to downsize and that is okay.
For example, have your children left the nest, leaving you to a house by yourself? Maybe the second fridge in the garage is no longer needed, or your extra double fridge in the kitchen could be better replaced with a smaller one to meet your new circumstances.
Kitchen appliances are being designed for efficiency and convenience, including size and accessibility.
If your old appliances are too large and bulky for your space and you want a smaller, sleeker option, consider your options.
2. They are old and no longer working
This is the simplest reason – if your kitchen appliances are no longer working, you should get rid of them.
Look into repairing your item if you can, but as mentioned before, if the cost of a repair job exceeds the cost of a new item, it is more worthwhile to buy the new item.
The new item will last longer and probably better suit your needs than the old one.
3. They have become hazardous
Unfortunately, some older appliances can be deemed hazardous due to the materials used to construct them.
While there are stricter rules and regulations now surrounding the manufacture and production of items, including white goods, this was not always the case.
If you discover or suspect your kitchen appliances to be unsafe, contact the provider and confirm.
Then replace them with a new item that is safe for you and your family.
Give 1300 Rubbish a Call
If you have old and unwanted kitchen appliances cluttering your home, contact 1300 Rubbish today.
1300 Rubbish can take care of your bulky white goods by removing and correctly disposing of them, safe out of your hands.
You don't need to worry about sustainable disposal or transporting your old kitchen appliances as the removalists at 1300 Rubbish take care of every step of the process for you.
Conveniently located in all major cities and towns, 1300 Rubbish are an accessible option for your rubbish needs.
Give them a call today for a free quote: 1800 551 294