1300 Rubbish is an Australian based company that has been providing the Gold Coast with the best rubbish removal service for over 25 years. We can help you with any of the heavy-lifting that you need to do when removing rubbish from home, office or worksite.
If you are living on the Gold Coast and need to remove some rubbish quickly, visit our online booking page or call us on 1300 782 247.
Our Comprehensive Rubbish Removal Services
If you want your space to look nice and clean, you should hire some professionals to help you get rid of any junk that you don't need and clean things up. You won't have to do anything when you have 1300 Rubbish on the job. We will get rid of any rubbish that you don't need and clean up after ourselves once the job is done.
We offer a range of different rubbish removal services in and around the Gold Coast, Here's some of the types of rubbish we remove;
If you have a rental property or a residence that needs a bit of a clean, you should call 1300 Rubbish. At 1300 Rubbish, we can help you to get rid of any household rubbish or junk that you have around your property so that you can have the tidy space that you deserve. We help to remove old mattresses, dispose of white goods and get rid of old carpet from your residence so that you don't have to. We can also help you with your garden and green waste removal so that the outside of your home will be as tidy as it is inside your home.
Keeping your commercial space tidy can be hard to do, especially if you running or managing a business. If you have an office, shop, cafe or business premises that you need to clean quickly, you should call 1300 Rubbish to help you. We will help you get rid of any junk or rubbish that you need removed from your commercial property. At 1300 Rubbish, we can help you to dispose of old air conditioners, get rid of old furniture and appliances and remove office rubbish and junk that you may have on your premises. So even though it can be stressful to run or manage a business, if you have 1300 Rubbish on your team we will help you to keep things clean. So you can get back to the more important things and we'll do the rest.
All across the country, there are more and more buildings being built each day,  which means that are many job sites that are looking very untidy. If you have a job site on the Gold Coast that you need to clean up, 1300 Rubbish can help you with your construction rubbish removal needs. It is not easy to keep a job site tidy when you are working on a job, but if you call us, we can help you to organise yourself and your construction site. 1300 Rubbish can help you with demolition waste removal, get rid some scrap metal and even gyprock recycling so that your job site can be clean and tidy at all times.
Capable Team
With over 25 years of experience, you can be sure that the team at 1300 Rubbish know how to remove rubbish in the most effective way possible.  We will collect, transfer and dispose of all of your rubbish and recycling so that you won't have to do anything, and we can offer same-day rubbish removal in some certain.
Don't worry about hiring a skip bin or making a trip to your local tip, because 1300 Rubbish can help you. We will not be finished until our customers are satisfied with their clean and tidy space.
Here is our process:
1) The Pick-Up
1300 Rubbish comes to remove the commercial, residential or construction rubbish you need to get rid of. You do not have to do anything, as our team will lift, dismantle and detach all your items, even those hard to reach fixtures!
2) The Clean Up
After the waste materials are all gone, there is a clean up to be done in order to leave the space ready for you to use. For minimal downtime and improved safety, no glass shards, sharp materials or hazardous items will be left for you to deal with.
3) The Disposal
After we drive away, we take on the responsibility of correctly dismantling, recycling or disposing of your waste. We make sure to relay any e-waste or other regulated materials to government-owned or private facilities, and we always take a more environmentally friendly approach.
Safe and responsible rubbish removal is 1300 Rubbish really cares about, so you can be sure that we will look after your waste no matter where you are in Australia. This gives our customers peace of mind so that they can trust us with any rubbish removal services that they may need.
If you are based on the Gold Coast or any of the surrounding areas, call today for fast, hassle-free and responsible rubbish removal.
1300 Rubbish Is Great On The Gold Coast
The Gold Coast is one of the most beautiful regions in Queensland and in Australia. Known for its nightlife and its long sandy beaches, it is easy to see why so many people want to live there. The Gold Coast is also frequented by many tourists each year, to visit theme parks such as Sea World, Warner Brothers Movie World and Wet 'n' Wild water park, so it is a great place for young and old to come and have some fun in the sun.
Because the Gold Coast is such a large area with many people living across the region, there is always someone who needs their rubbish removed, and 1300 Rubbish can help with any of your rubbish removal needs. The Gold Coast is one of the most fun and vibrant destinations in Australia and it is easy to see why so many people come each year to visit the many sights and sounds that the region has to offer. So if you want to visit a place that has something for the whole family that is close to the water and the city, the Gold Coast is where it's at.
Give us a call and we will be able to give you a quote today!
Levi Gerard
1700703560
They're great and got back to me with a quote fast.I paid them to get rid of a disgusting old mattress from a previous tenant and they got rid of it without fuss.Way easier than hiring a ute and

...

doing it myself. Nice people too.Would definitely use their services again.

read more
Sally Steele
1698978505
Top service from booking until delivery. Such lovely service and nothing was a bother to the driver. Tnx Highly recommend
Gwenneth Gracie
1695882982
I highly recommend this company. I contacted 1300rubbish via their website. Within an hour Patrick contacted me. We arranged a day and time that suited me for some furniture to be removed. Patrick

...

gave me a quote which was very reasonable.On the Tuesday arranged, Lucas and Chris arrived at my home in the time slot given travelling from Brisbane to the Sunshine Coast. They were so professional, friendly, got on with the removal of the furniture, including a heavy couch which they had to carry down stairs and which they did easily, with a smile. Nothing was too much trouble. They made it easy for me :)Thank you Patrick, Lucas and Chris. I was/am very grateful for all your help.I will definitely let people know about 1300Rubbish. Laurie G

read more
Michelle jude
1692694524
Great customer service , the job was done within an hour ,. I will definitely recommend 😊
le tran
1692335163
Great service!
Malcolm Sharp
1692237526
Rang the request and collected same day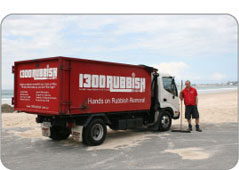 DO YOU SERVICE MY AREA?
From Palm Beach to Labrador we have Gold Coast rubbish removal covered.
Do We Service Your Postcode?
Check here:
Frequently Asked Questions
How quickly can we pick up your rubbish?
We are able to offer same day rubbish removal for many of our customers. How quickly we can pick up a load of rubbish will depend on many things such as the size of the job, its location and seasonality. Call us today for a free quote to find out.
What areas around the Gold Coast do you service?
We service the Gold Coast and surrounding areas. From Palm Beach to Labrador we have Gold Coast rubbish removal covered.
What services do we offer?
We offer a whole range of services in the
residential
, 
commercial
 and 
construction 
space. Whether you're just cleaning up around home, or you need an entire job site cleared, we have the team and truck for you.
Can I get a free quote?
Excellent
4.9
★
★
★
★
★
Based on 724 reviews from
Brooke Cherie
★★★★★
Very happy with the service from booking to collection. Staff are friendly and professional. I would definitely recommend and I will absolutely call in the future for more collection services.
Jane Lovell
★★★★★
Quick service, friendly team, and job done.
Lisa
★★★★★
Professional, punctual and great job
Lari
★★★★★
Great experience, crew were friendly, efficient and great at what they do. Customer service was also amazing. Was by far the most reasonable quote I recieved and they went above and beyond for the job. I offered to help but they were happy to do everything themselves. Highly recommend!