1300Rubbish take the stress and hassle out of rubbish removal for you. Our teams are experienced in providing a fast, friendly and reliable service. 1300Rubbish takes pride in our service. We strive to be professional, friendly & punctual. With over 25 years experience and dedication to jobs both big and small, our service is hard to beat.
1300Rubbish take the stress and hassle out of rubbish removal for you. Our teams are experienced in providing a fast, friendly and reliable service. 1300Rubbish takes pride in our service. We strive to be professional, friendly & punctual. With over 25 years experience and dedication to jobs both big and small, our service is hard to beat.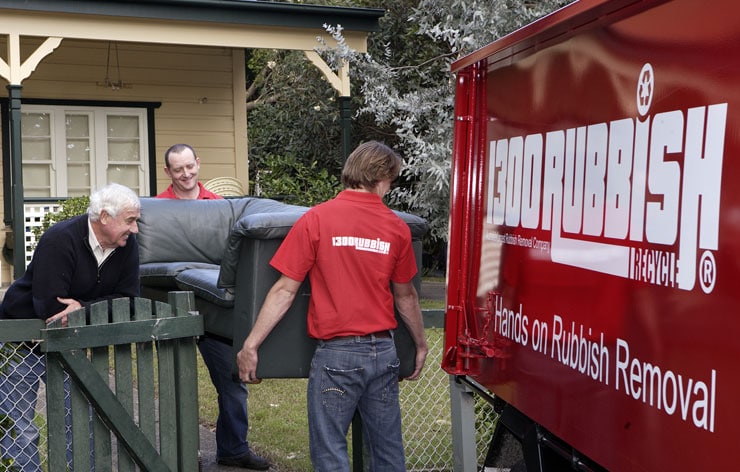 From Houses to Apartments – nothing is too much trouble. We remove your unwanted junk, rubbish, furniture & even fittings and carpet from where you tell us to.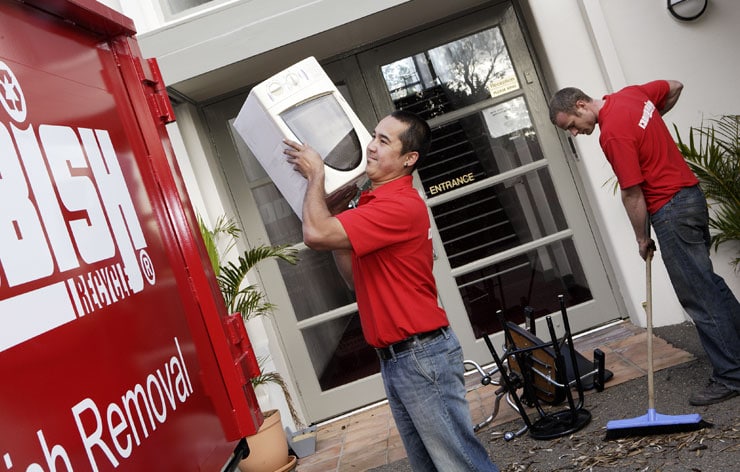 Be it Offices, Warehouses or Retail – we have you covered. We'll remove anything, from obsolete stock, IT or furniture or even whole strip outs.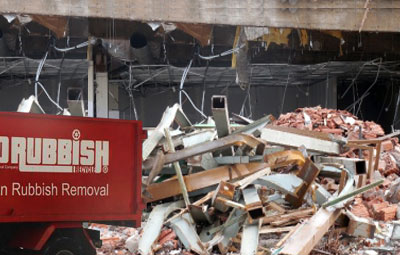 Reliable and Fast, we clean out any building or demolition site of rubbish and waste or even strip out fixtures and carpet – for a safer and more productive work site.
Rubbish Removal Sydney
While we service area's right around Australia, 1300Rubbish started right here in Sydney. We've been bringing you high-quality rubbish removal service since 1989, so with over 25 years experience, we're the company Sydneysiders know and trust.
If you're in need of a friendly, professional rubbish removal team to assist you or your business in Sydney, look no further. The 1300Rubbish team is Sydney's best rubbish removal company, bringing you high-quality service at an affordable price. 
Comprehensive Rubbish Removal Services
We take the stress out of your next rubbish clean out and junk removal job. Our removal experts in Sydney tackle any waste collection job with their comprehensive range of services for any workplace, home or construction site job:
Household rubbish can often build up and clutter homes, causing you stress and hassle. At 1300Rubbish, we are pros at removing residential items such as old furniture, appliances, e-waste, white goods like washing machines, general clutter, garden waste and green waste.
Whether your Sydney restaurant is getting new furniture, or you're about to undertake an office clear out, 1300Rubbish can assist with the job. Furniture removal such as old office items, desks, chairs as well as kitchen appliances can all be taken care of with our rubbish removal service.
Construction Rubbish can be a serious job that requires professionals. 1300Rubbish's team are experts in responsible construction waste removal and disposal. Whether its brick rubble, sheet metal, steel or concrete on a building site, our friendly team can save your business time and effort.
We come right to the rubbish, removing it from the rooms or areas it is in, so you don't have to lift a finger.
We then make sure the rubbish is transported to the correct processing facilities and treated as required by law. That means recyclable items are sent to recycling centres, other waste and furniture are dismantled and chemicals and acids are responsibly disposed of.
A full-service removal means we do it all, where cleaning rubbish from the kerb is just the start. Our friendly service team will physically assist with removal of almost anything you need at an affordable price, saving you time and effort. Once we pick up your junk, waste and rubbish, we then offer our cleaning services to prepare your new space, whether it be in the home, office, job site or even a backyard.
Our removal specialists will make sure the area is free of debris, sharp objects or broken materials and ensure it is safe and ready for the next thing you want to do with the space. No hassle for you!
Trusted Sydney Rubbish Removalists
1300Rubbish is Australia's alternative to skip bin hire, removing the need for council approval to clear out household waste. We service the entire city limits of Sydney, including the Eastern Suburbs, Inner West, South Sydney, Bondi, Parramatta and even the Sydney CBD. For your free quote, give us a call today.
We are your local waste disposal experts. We understand the rules and regulations that surround the many types of waste. Our team ensures that your rubbish, be it recyclable or waste materials, is disposed of responsibly, giving you the peace of mind that you adhered to government regulations and eco-friendly practices.
We are professional rubbish removalists that have been working in Sydney rubbish collection for over 25 years. We have the experience to plan the most efficient ways to collect, transfer and dispose of all different types of rubbish, from recycling, office e-waste to construction site bricks and steels. We get the job done, which is why we can offer same-day rubbish removal on most jobs.
You can expect our Sydney rubbish removal team members to be friendly, professional and prompt and our result to be second to none.
Our process has been developed to ensure we are on time, able to assist no matter how large the task and be complete within a set timeline. Once the removal process is over, we then clean everything up.
Our team is dedicated to providing a seamless service, so all of our Sydney customers can expect a full-service removal and clean up at an affordable price. Our mission is to provide a cheap rubbish removal service which leaves our customers happy, clutter-free and left with a great clean space. Call to see why we're the best in the business!
We don't want any of our customers to experience bill shock. Part of our 1300rubbish removal experience is the simplicity and peace of mind. This means we also offer transparent pricing so our Sydney customers know exactly what the job will cost. Once you've determined our pricing is perfect for you, all you need to do is let us know when to begin.
Responsible Environmental Disposal
We make sure our customer's rubbish is taken care of and disposed of in an ethical and environmentally friendly manner. There are a few rules and regulations for Sydney rubbish removal that relate to the safe disposal of chemicals, hazardous waste as well as recyclables. We ensure that when we remove rubbish from any home or business it is disposed of correctly, according to the standards of the local, council and national regulations in place.
During the cleanup and collection process, we make sure to organise waste and prevent merging items together to make it easier to separate, recycle and repurpose certain items when we hand off items to recycling centres to ensure we are being eco-friendly. When more hazardous and dangerous materials and chemicals are concerned we will relay this to Sydney council's resource recovery facilities.
Do You Service Near Me?
We offer our rubbish collection services to all Sydney areas in New South Wales, so no matter where you live or work, we can collect any unused materials, e-waste and more.
Make cleaning and rubbish removal effortless and get in touch with one of our friendly team members today for an obligation-free quote.