For many business owners and managers, getting rid of waste is an ongoing obstacle and challenge. This is especially pertinent in cases of larger rubbish removal that doesn't fit in your regular bins. Waste removal on a commercial level can be difficult to tackle yourself, which is why we offer commercial rubbish removal and office rubbish removal services for all kinds of waste.
Whether you need office rubbish removal, a complete strip out or even an air-conditioner removal service, 1300 Rubbish has got you covered. Unwanted items and junk that can't be disposed of in the normal office bin can be disposed of by us! Our professional team will clear, dispose and then tidy your commercial space with no extra hassle from you.
What is Commercial Waste?
Commercial waste is a broad term used to categorise most waste produced by businesses. Commercial waste can involve office supplies, appliances and even larger-scale items such as air-conditioning units, carpets and white goods. This umbrella term can cover a wide range of waste materials and products, including:
Furniture
Desks
Chairs
Lounges
Storage cabinets
Larger cabinets
Lunch tables
Office Supplies
Paper
Shredded papers
Cards
Packaging stationery
Boxes
Old office supplies
Appliances
Computer monitors and displays
Coffee machines
Microwaves
Fridge
Flooring
Sustainable Disposal
At 1300 Rubbish, we are committed to disposing of your waste in an ethical and environmentally friendly manner. Our team ensures that all waste we remove is disposed of correctly, according to the standards of the local council and the national regulations in place.
Our disposal process often includes:
Transferring rubbish to be put into landfill
Recycling
Dismantling and transforming re-usable waste
Re-using unwanted furniture and other resources
How Our Rubbish Removal Services Work
We have a three-step process for our commercial waste collection:
Removal
Clean-Up
Disposal
Removal
The team at 1300 Rubbish will completely remove all of the commercial rubbish and waste you don't wish to keep without needing you to lift a finger.
Our team will do all the heavy lifting and assist with all actions required for proper disassemblies, such as the detachment of drawers and cabinets from their fixtures or walls.
Clean-Up
After the removal process has been completed, our team will clean all debris for you.
There is nothing worse than dust and clutter around your office space, or removalists who leave their own rubbish lying around.
We will leave your office space clean and refreshed, ensuring there are no glass shards, sharp materials, or hazardous materials.
Disposal
We dispose of all items according to the relevant guidelines for their materials.
When it comes to e-waste, we recycle 95-98% by weight of what we collect with our sister company http://www.ewaste.com.au/.
Where We Collect From
Our friendly service team works across several industries and locations to help dispose of countless products and materials, including Adelaide, Brisbane, Geelong, Gold Coast, Melbourne, Perth, Sydney and Wollongong.
We can visit offices in cities, suburbs, industrial on-site offices, small and large businesses and retail stores that are in need of an easy and affordable way to dispose of their rubbish and other unused products and materials. We cover a wide range of businesses and commercial set-ups, including:
Offices (big or small!)
Local businesses
Strata
Schools and educational institutions
Retail stores
Hospitality venues
Commercial complexes
Health centres
Restaurants
Hotels
Pubs
Enjoy Our Comprehensive Service
A professional, compliant and affordable commercial rubbish removal is the best way for your business to get back to work as seamlessly as possible in a productive environment. Our team boasts years of experience, quality equipment and appropriate clothing to dispose of all types of office and retail waste, no matter the size.
If you need your office or retail store's leftover materials safely and compliantly removed, even on a routine basis, then get in touch with us and make an appointment today for waste management solutions. Keep the workplace clutter-free!
Book an appointment today and one of our team members will evaluate your site and requirements. We are also happy to provide a free quote, based on your site, timeframe and amount of materials.
Commercial Rubbish Removal FAQ
Are You Open 24 Hours?
Yes, you can call us anytime, any day to organise fast and friendly commercial rubbish removal.
How Much Will It Cost to Remove My Commercial Rubbish?
We have no fixed prices for our rubbish removal jobs. Contact us today for your free quote.
Do You Recycle Waste?
We take our rubbish removal service seriously. We ensure that all of our products are recycled and disposed of in the most environmentally friendly manner.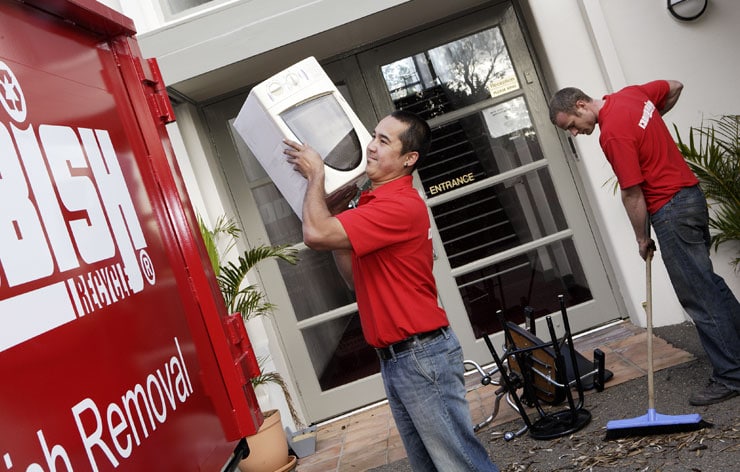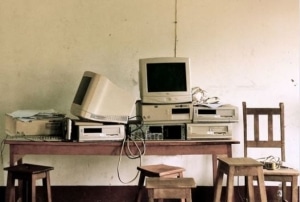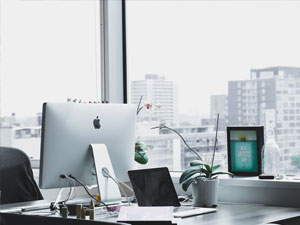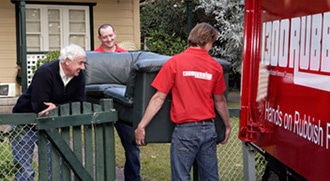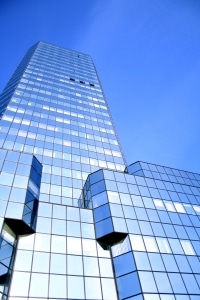 Excellent
4.9
★
★
★
★
★
Based on 724 reviews from
Brooke Cherie
★★★★★
Very happy with the service from booking to collection. Staff are friendly and professional. I would definitely recommend and I will absolutely call in the future for more collection services.
Jane Lovell
★★★★★
Quick service, friendly team, and job done.
Lisa
★★★★★
Professional, punctual and great job
Lari
★★★★★
Great experience, crew were friendly, efficient and great at what they do. Customer service was also amazing. Was by far the most reasonable quote I recieved and they went above and beyond for the job. I offered to help but they were happy to do everything themselves. Highly recommend!