Firstly, the job can be demanding. With heavy appliances and bulky shelves it can be tough work. Secondly, it can be hard for business owners to remove the things from their shop that they've worked so hard on over the years.
1300 Rubbish is the expert team that can help you with commercial shop defits and strip outs. Not only do we assist with shop and office defits, we carry out completely responsible rubbish removal. If your shop is nearing it's end of lease date, call us for a free quote today. We can come to all types of buildings including shopping centres, office buildings and construction sites.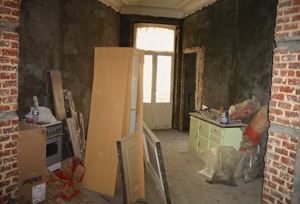 What does our strip out service involve?
1300 Rubbish specialise in rubbish removal, shop defits and strip outs. Whatever you need removed from your store or shopfront, our team has the experience and the trucks for the job. We can completely remove the interior of a retail space including all the furnishing layers down to the exposure of the building's structure. Once the shop is stripped out, our team will clean up and remove any debris making it safe for any tradesman.
Here are some of the items we can remove for shop strip outs:
Shop fixtures & carpentry (shelves, appliances)
Glass (mirror, windows)
Flooring and floor coverings (carpet, tile, hardwood, laminate)
Furniture (chairs, tables)
Partitions
Air conditioning, heating units and ducting
Electrical system (lights, dimmers, ceiling fans, cables, telephone lines)
Shop signs
Electronic goods (cash register, computers, sensors, security tag detectors)
Built-in furniture
Whether you're preparing your shop for end of lease make good, or your simply undertaking a strip out for a refurbishment, 1300 Rubbish can perform the job in a safe and efficient timeframe. Call us today.
Frequently Asked Questions:
What area's do you provide shop defits and stripouts?
We provide shop defits and stripouts around all of Australia, with locations in Adelaide, Brisbane Geelong, Gold Coast, Melbourne, Perth, Sydney and Wollongong.
Are you Open 24 hours?
Yes, you can call us anytime, any day to organise fast and friendly residential rubbish removal.
How much will it cost to strip out my shop?
We have no fixed prices for our rubbish removal jobs. Contact us today for your free quote.
Do you recycle waste?
We take our rubbish removal service seriously. We ensure that all of our products are recycled and disposed of in the most environmentally friendly manner.
Excellent
4.9
★
★
★
★
★
Based on 724 reviews from
Brooke Cherie
★★★★★
Very happy with the service from booking to collection. Staff are friendly and professional. I would definitely recommend and I will absolutely call in the future for more collection services.
Jane Lovell
★★★★★
Quick service, friendly team, and job done.
Lisa
★★★★★
Professional, punctual and great job
Lari
★★★★★
Great experience, crew were friendly, efficient and great at what they do. Customer service was also amazing. Was by far the most reasonable quote I recieved and they went above and beyond for the job. I offered to help but they were happy to do everything themselves. Highly recommend!